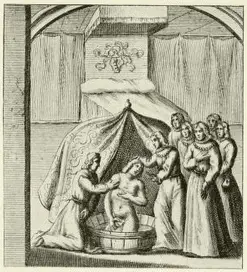 On this day in history, the night of 22nd June 1509, King Henry VIII rewarded twenty-six* men for their loyal service to the crown by making them Knights of the Bath as part of his coronation celebrations.
The men were Robert Radcliffe, Baron Fitzwalter; Henry Scrope, 7th Baron Scrope of Bolton; Lord Fitzhugh; William Blount, 4th Baron Mountjoy; Henry Daubeney, 1st Earl of Bridgewater and 2nd Baron Daubeney; Thomas Brooke, 8th Baron Cobham; Henry Clifford, 1st Earl of Cumberland; Sir Maurice Berkeley, de jure 4th Baron Berkeley; Sir Thomas Knyvet; Andrew Windsor, 1st Baron Windsor; Sir Thomas Parr (father of Catherine Parr); Sir Thomas Boleyn (father of Anne Boleyn); Sir Richard Wentworth; Sir Henry Ughtred; Sir Francis Cheyney; Sir Henry Wyatt (father of poet and diplomat Sir Thomas Wyatt the Elder); Sir George Hastings, 1st Earl of Huntingdon; Sir Thomas Metham; Sir Thomas Bedingfield; Sir John Shelton (Thomas Boleyn's brother-in-law); Sir Giles Alington; Sir John Trevanion; Sir William Crowmer; Sir John Heydon (his mother was a Boleyn); Sir Goddard Oxenbridge; and Sir Henry Sacheverell or Sackveyle.
Chronicler Edward Hall records that Henry VIII created the men Knights of the Bath on 22nd June, but Letters and Papers states that the ceremony took place on 23rd. These men served the king at dinner on 22nd, so the document in Letters and Papers may be referring to the men being knighted the night of 22nd/23rd.
The men were dubbed Knights of the Bath at a special ceremony at the Tower of London. Each man would have a canopied bath and while they bathed a procession led by the king would enter the hall. The king would then approach each man in turn – the man still being in his bath – and dip his finger into the bath water and then make the sign of the cross on the knight's bare back. If King Henry VIII followed what King Henry IV did in 1399, then he would say to each knight "You shall honor God above all things; you shall be steadfast in the faith of Christ; you shall love the King your Sovereign Lord, and him and his right defend to your power; you shall defend maidens, widows, and orphans in their rights, and shall suffer no extortion, as far as you may prevent it; and of as great honor be this Order unto you, as ever it was to any of your progenitors or others." The king then processed out of the hall. The knights then rested until they were woken to go to the chapel. They dressed as monks and processed to St John's Chapel, where their new helmets, armour, swords and spurs had been arranged around the high altar. Each knight would kneel in devotion before his armour and guard it for the rest of the night.
Being made a Knight of the Bath was an honour for Thomas Boleyn and a reward for his loyal service to the previous king, King Henry VII. In 1497, with his father, Thomas had fought on the king's side against the rebels of the Cornish Rebellion, he had been a member of the party of men who escorted Margaret Tudor, Henry VII's daughter, to Scotland in 1503 to marry King James IV, and he had been appointed an esquire of the body before the king's death. Of course, he would continue to rise in the new king's reign and you can read more about his career in my article In Defence of Thomas Boleyn, Father of Anne Boleyn.
Also on this day in history, 22nd June…
1528 – The death of William Carey, husband of Mary Boleyn, from sweating sickness. Click here to read more.
1535 – The Execution of John Fisher, Bishop of Rochester. Click here to read more.
1536 – Henry VIII's eldest daughter, Mary, finally submitted to her father and accepted her father as Supreme Head of the Church in England and the invalidity of her parents' marriage. Click here to read more.
Notes and Sources
* Edward Hall records twenty-four men being made Knights of the Bath, but there are 26 names in the list in Letters and Papers.
'Henry VIII: June 1509, 16-30 ', in Letters and Papers, Foreign and Domestic, Henry VIII, Volume 1, 1509-1514, ed. J S Brewer (London, 1920), pp. 36-55. British History Online http://www.british-history.ac.uk/letters-papers-hen8/vol1/pp36-55.
Hall's Chronicle, p. 507.