22 August 1485 – The Battle of Bosworth
Posted By Claire on August 22, 2016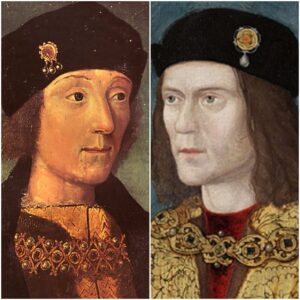 The 22nd August is an important date in Tudor history as it is the anniversary of the battle which saw the end of Plantagenet rule and the start of a new royal dynasty: the House of Tudor.
On this day in 1485, the forces of King Richard III and Henry Tudor met at the Battle of Bosworth. Henry had returned from exile in Brittany on 7th August 1485, landing at Mill Bay in Pembrokeshire, and had then set off for London, marching through Wales and the Marches gathering troops. Richard, on hearing the news of Henry's landing, set off to cut him off and the two forces met near Market Bosworth in Leicestershire.
King Richard III was killed at the battle and Professor Guy Rutty, from the University of Leicester, following the examination of Richard's skeleton, concluded that "Richard's head injuries are consistent with some near-contemporary accounts of the battle, which suggest that Richard abandoned his horse after it became stuck in a mire and was killed while fighting his enemies."1 Richard's crown was recovered from the battlefield and Henry Tudor was crowned King Henry VII. Richard was buried at Greyfriars Monastery but, following an archaeological dig in 2012, his remains were reinterred at Leicester Cathedral on 26th March 2015.
You can read more about the battle in the following articles:
Notes and Sources
"Richard III died in battle after losing helmet, new research shows", The Guardian/Press Association, 16 September 2014.