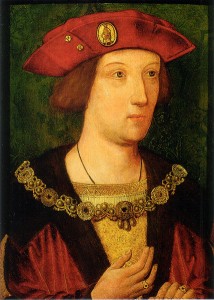 "Afore one o'clock after midnight" on 20th September 1486, Elizabeth of York, queen consort of King Henry VII, gave birth to a son at St. Swithun's Priory in Winchester.
The royal court had arrived in Winchester in early September. They had travelled there because Henry VII had wanted his first child to be born in the place believed to have been the capital of the legendary Camelot. He named his son after Camelot's heroic king, King Arthur, and he was convinced that his son's future reign would be a golden age. Arthur's birth was celebrated with bonfires in the streets and the singing of the Te Deum at Winchester Cathedral. Tragically, Arthur died at the age of fifteen, on 2nd April 1502, and it was his younger brother Henry who became King on Henry VII's death in 1509.
Click here to read more about Arthur, Prince of Wales.
Tudor Society members can view my video about Ordinances by Margaret, Countess of Richmond and Derby, as to what Preparation is to be made against the Deliverance of a Queen, as also for the Christening of the Child which she shall be delivered, a manual written by Margaret Beaufort, Henry VII's mother, in 1486 when Elizabeth of York was pregnant with Arthur – see www.tudorsociety.com/margaret-beauforts-ordinances-video/