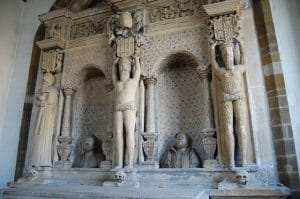 On this day in history, 19th September 1580, Katherine Bertie (née Willoughby and previous married name Brandon), Dowager Duchess of Suffolk, died after a long illness. She was laid to rest at St James's Church, Spilsby, Lincolnshire and visitors to the church can see the beautiful alabaster tomb of Katherine and her second husband, Richard Bertie.
Katherine was the daughter of William Willoughby, 11th Baron Willoughby de Eresby, and his wife, Lady Maria de Salinas, who had travelled to England from Spain in Catherine of Aragon's entourage. Katherine's first husband was Charles, Brandon, Duke of Suffolk and a great friend of Henry VIII. The couple had two sons, Henry and Charles, but unfortunately, the boys died of sweating sickness when they were in their teens, in 1551. The Duke of Suffolk died in 1545 and Katherine married her gentleman usher, Richard Bertie, by 1552. They went on to have two children: Peregrine, 13th Baron Willoughby de Eresby, and Susan.
Katherine was a fascinating lady. She was a keen reformer and a good friend of Queen Catherine Parr. You can read more about her in Sarah Bryson's excellent article over on our sister site, The Tudor Society – click here.
Picture: "Memorial to Katherine Baroness Willoughby and husband, St James's church, Spilsby" © Copyright Julian P Guffogg and licensed for reuse under this Creative Commons Licence. geograph.org.uk