John Leland and Anne Boleyn's coronation
Posted By Claire on September 13, 2016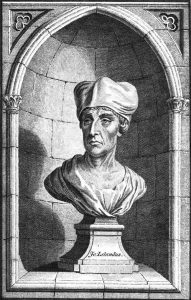 Today is the anniversary of the birth of John Leland, poet and antiquary, in London on 13th September c. 1503.
Leland is known for his Latin poems and his antiquarian writings which included Assertio inclytissimi Arturii regis Britanniae (which he presented to Henry VIII), his "New Year's Gift" to Henry VIII: Antiquitates Britanniae, De uiris illustribus, his travel notes and his defence of the legends of King Arthur. But he also has a link to Queen Anne Boleyn because Leland and fellow poet, Nicholas Udall, were commissioned to write poetry to be recited at Anne Boleyn's river procession and coronation procession on 29th May and 31st May 1533.
At the time of Anne's coronation, Leland was a royal chaplain and an "unofficial antiquary to the King",1 but it is thought that the poetry which made up The Versis and dities made at the coronation of quene Anne, found in BL, Royal MS 18 A. lxiv, were commissioned by Thomas Howard, 3rd Duke of Norfolk, and Thomas Cromwell who were in charge of the organisation of the coronation celebrations.2 Nicholas Udall's contributions were "a group of English and Latin verses and songs" and John Leland's were "a variety of Latin descriptive and epideictic poems."3
You can read an "abstract of Leland's and Udall's verses" in Ballads from Manuscripts: Ballads on the condition of England in Henry VIII's and Edward VI's reigns from page 373 to 401 – click here.
Leland's includes verses which were recited at the pageant showing Anne Boleyn's falcon badge and referring to another tableau showing St Anne:
"Your name, Anne, suggested to the citizens this pageant; the falcon was added as being the token of your family. He, down winging, rests him amongst the red and the snow-white roses. While there he gazes with fond eyes, an angel from heaven decks his head with a gorgeous crown. Be gentle then, Anne, to your citizens, who by any and every way do honour you. So may your progeny flourish even as that of Saint Anne. So may you live as many happy days as your bird has feathers."
and the oration:
Anna, thy country's chosen pride, of noble lineage on thy father's side and on thy mother's, O fairer than Thames' swans, than milk, than snow, you who in yourself have the virtues of a thousand others, receive this bright-gemm'd crown! it beseems well your temples. Be more fruitful than fruitful Niobe, that thy husband may see his face in many a child. May your happiness last as long as the life of the Sibyl!4
Click here to read more about Anne Boleyn's coronation procession and its various pageants.
Notes and Sources
Picture: Line engraving by Charles Grignion, purportedly taken from a bust of 16th-century antiquary John Leland at All Souls College, Oxford. Engraving printed in William Huddesford, ed. (1772). The Lives of those Eminent Antiquaries John Leland, Thomas Hearne, and Anthony à Wood. From Wikipedia.
ed. Goldring, Elizabeth; Eales, Faith; Clarke, Elizabeth; Archer, Jayne Elizabeth (2014) John Nichols's The Progresses and Public Processions of Queen Elizabeth: A New Edition of the Early Modern Sources: Volume V: Appendices, Bibliographies, and Index, Oxford University Press, p. 23.
Ibid.
Ibid.
Williams, Richard; Furnivall, Frederick James; Morfill, William Richard (1872) Ballads from Manuscripts: Ballads on the condition of England in Henry VIII's and Edward VI's reigns, Printed for the Ballad society, by Taylor and co, p. 378.