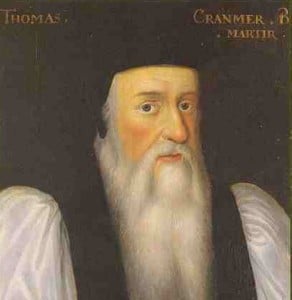 On this day in history, Thursday 12th September 1555, the trial of Thomas Cranmer, Archbishop of Canterbury, began at the University Church of St Mary the Virgin at Oxford.
Cranmer, who had served both King Henry VIII and King Edward VI as Archbishop of Canterbury, stood accused on this day in Mary I's reign of two offences or doctrinal errors: repudiating papal authority and denying transubstantiation.
If you want to know more about Thomas Cranmer then I'd recommend the book Thomas Cranmer in a Nutshell by Beth von Staats as it is an excellent introduction to this fascinating Tudor man.