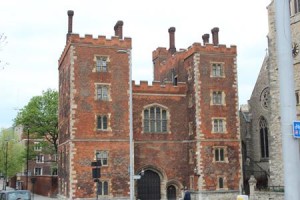 Something strange happened in the early hours of the day Queen Anne Boleyn was executed. While Anne prepared herself for death by praying and celebrating the Mass with her almoner, Scottish theologian Alexander Alesius (Ales) had a terrible vision or nightmare.
Alesius was in London at the time and although he was aware of the Queen's imprisonment he did not know that she was due to be executed on the 19th, having "remained a sorrowful man at home" worrying about what would happen to England's religion if the Queen was put to death. He gives an account of his vision in a letter he wrote to Anne Boleyn's daughter, Queen Elizabeth I, in 1559 to congratulate her on her accession:
"I take to witness Christ, Who shall judge the quick and the dead, that I am about to speak the truth. On the day upon which the Queen was beheaded, at sunrise, between two and three o'clock, there was revealed to me (whether I was asleep or awake I know not) the Queen's neck, after her head had been cut off, and this so plainly that I could count the nerves, the veins, and the arteries.
"Terrified by this dream, or vision, I immediately arose, and crossing the river Thames I came to Lambeth, (this is the name of the Archbishop of Canterbury's palace,) and I entered the garden in which he was walking. When the Archbishop saw me he inquired why I had come so early, for the clock had not yet struck four. I answered that I had been horrified in my sleep, and I told him the whole occurrence. He continued in silent wonder for awhile, and at length broke out into these words, 'Do not you know what is to happen to-day?' and when I answered that I had remained at home since the date of the Queen's imprisonment and knew nothing of what was going on, the Archbishop then raised his eyes to heaven and said, 'She who has been the Queen of England upon earth will to-day become a Queen in heaven.' So great was his grief that he could say nothing more, and then he burst into tears."
I am always moved by this account. Archbishop Cranmer obviously couldn't sleep either and I'm just glad that he had a friend with him to share his grief that day.
Notes and Sources
Calendar of State Papers Foreign, Elizabeth, Volume 1 – 1558-1559, 1303.