Posted By Claire on May 18, 2011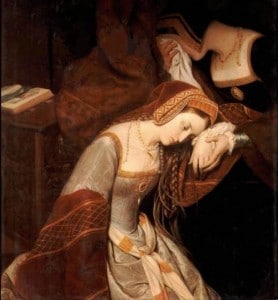 We were all expecting for Queen Anne Boleyn to be executed at 9 o'clock this morning by the famous Sword of Calais, the French executioner who has apparently been ordered, but we have now learned that it has been postponed until tomorrow morning. According to our sources, it was first postponed until noon and when that time passed the Queen was finally informed that he death was still a day away.
Anticipating that her execution would take place today, the Queen spent last night in prayer, praying with her almoner, John Skip, from 2am, giving her confession to Archbishop Cranmer at dawn and then celebrating the mass. The Queen asked for Sir William to be present while she took the sacrament and, in front of him, she swore her innocence twice in the sacrament before receiving it1. Obviously, Kingston would report this back to Cromwell and the King.
The Queen made arrangements for £20 to be distributed as alms – this sum had been given to her by the King exactly for this purpose – then she waited for Kingston to come and escort her to the scaffold.
9 o'clock went by and he did not come, it appears that he was busy following orders that he had received from Cromwell making sure that the Tower was clear of foreigners who might cause trouble at the Queen's execution. According to our sources, the Queen then sent for Kingston to find out what was going on, asking him "Master Kingston, I hear say I shall not die afore noon, and I am very sorry there fore, for I thought to be dead by his time and past my pain."2 We know now that Kingston knew full well that the execution had been postponed until the next day but he did not tell the Queen, keeping her on tenterhooks, instead he just comforted her, saying that the blow of the sword would be "so subtle". Our Queen was able to inject some humour into the conversation, replying "I heard say the executioner was very good, and I have a little neck"3 and putting her hands around her throat and laughing. She also joked with her ladies that she would go down in history as "la Royne Anne Sans Tete" or Queen Anne Lackhead4.
When noon had come and gone, Sir William Kingston finally put our beloved Queen out of her misery and informed her that her execution had been postponed until the 19th. The Queen was obviously distressed as she had psyched herself up to face the executioner that day. She begged Kingston to intercede with the King on her behalf so that she could be executed immediately because she was ready to die5, but it was too late and there was nothing Kingston could do. The Queen is due to die tomorrow and we expect that she will spend a further night in prayer.
Notes and Sources
LP x.908
Wolsey, ed. Singer, p460-1, The Life and Death of Anne Boleyn, Eric Ives
LP x.910
Quoted in The Lady in the Tower, Alison Weir, p255
LP x.908