18 June 1546 – The Conviction of Anne Askew, Protestant Martyr
Posted By Claire on June 18, 2012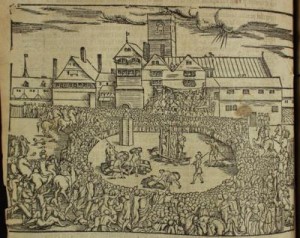 On this day in history, 18th June 1546, Anne Askew was arraigned at London's Guildhall for heresy, along with Nicholas Shaxton, Nicholas White and John Hadlam (Adlams or Adams). She was sentenced to be burned at the stake. Chronicler Charles Wriothesley records this event:
"The eigh tenth daie of June, 1546, were arraigned at the Guilde Certaine Hall, for heresee, Doctor Nicholas Shaxston, sometyme bishop of arraigned for Salisburie; Nicholas White, of London, gentleman; Anne Kerne[Kyme], alias Anne Askewe, gentlewoman, and wiffe of Thomas Kerne [Kyme], gentleman, of Lyncolneshire ; and John Hadlam, a of Essex, taylor ; and were this daie first indited of heresie and after arraygned on the same, and their confessed their heresies against the sacrament of the alter without any triall of a jurie, and so had judgment to be brent[burnt]."
You can read more about Anne in my article Anne Askew Sentenced to Death.
Notes and Sources
A Chronicle of England during the reigns of the Tudors, from A.D. 1485 to 1559, Charles Wriothesley, p167