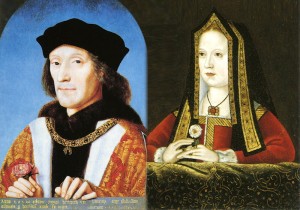 On this day in history, 18th January 1486, the founding member of the Tudor dynasty, King Henry VII, married Elizabeth of York, daughter of the late Edward IV, at Westminster Abbey. The service was conducted by Thomas Bourchier, Archbishop of Canterbury.
Sadly, we don't have any contemporary accounts of the wedding ceremony or celebrations, but in "The Crowland Chronicle Continuations: 1459-1486", there is the following record of the marriage:
"…after the victory of the said king Henry the Seventh, and the ceremonies of his anointing an coronation, on the last day but one of the following month, by the hand of the most reverend father, Thomas, cardinal archbishop of Canterbury, and in due conformity with the ancient custom, the marriage was celebrated, which from the first had been hoped for, between him and the lady Elizabeth, the eldest daughter of king Edward the Fourth. This was duly solemnized, at the instance and urgent entreaty of all three of the estates of the realm, in the presence of the Church, on the eighteenth day of the month of January, in the year of our Lord, according to the computation of the Roman Church, 1486; a dispensation having been first obtained from the Apostolic See on the account of the fourth degree of consanguinity, within which the king and queen were related to each other."
You can read more about the bride and groom, and how this marriage came about, in my article Henry VII Marries Elizabeth of York.
Notes and Sources