14 January 1559 – Elizabeth I's Coronation Procession
Posted By Claire on January 14, 2014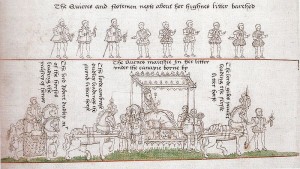 Elizabeth I left the Tower for her eve of coronation procession at 3pm on the 14th January 1559 in a cloth of gold covered litter carried by two mules. As she passed the Tower of London menagerie, Elizabeth prayed to God, thanking him for her deliverance, like that of Daniel from the lion's den.
Elizabeth was a natural. She charmed the crowd, smiling warmly at people, joking and replying to their good wishes. It was usual for pageants to be part of a coronation procession, and Elizabeth had five:
Gracechurch Street – This pageant referred to Elizabeth's genealogy, her Tudor roots and the history of the House of Tudor. The people were reminded that her name sake and grandmother Elizabeth of York had brought peace to the land by marrying Henry Tudor and uniting the warring Houses of York and Lancaster. Elizabeth, too, would bring peace and unity to the land.
Cornhill – This pageant referred to Elizabeth's new government as being upheld by four virtues: True Religion, Love of Subjects, Wisdom and Justice.
Soper's Lane – This pageant was based on the New Testament Beatitudes and, as Starkey explains, applied them to Elizabeth's sufferings at the hands of her sister.
Little Conduit, Cheapside – This pageant with its subject of "Time" attacked Mary's reign, contrasting "a decayed commonwealth" to "a flourishing commonwealth" in two tableaux. Time's daughter, Truth, carried an English Bible labelled the "Word of Truth", which Elizabeth's government was said to possess. When Elizabeth saw this pageant, she asked for the Bible and "kissed it, and with both her hands held up the same, and so laid it on her breast, with great thanks to the City therefore."
Fleet Street – This pageant depicted Elizabeth as the prophetess Deborah who had rescued Israel from Jabin, King of Canaan. Like Deborah, Elizabeth would reign over her people for over forty years.
The procession ended at Westminster in readiness for Elizabeth's coronation ceremony the next day in Westminster Abbey.
Elizabeth used her mother Anne Boleyn's coronation procession on 31st May 1533 as a model for her coronation in 1559. Here are the things that Elizabeth used in her coronation in memory of her mother or that were inspired by the amazingly lavish ceremony that Anne had to show England that she was its true Queen:
Symbolism and imagery – Elizabeth lined the streets of her processional route with beautiful scenery, including a vignette of Anne Boleyn as Queen.
The Virgin Mary – Anne had used representations of the Virgin Mary at her coronation but her daughter took this one step further by becoming the Virgin Mary. Elizabeth cultivated the image of she, herself, being the Virgin Mary on Earth, the Virgin Queen and Gloriana – a divine presence on Earth. Tracy Borman, in her book, writes of how this imagery secured the love of her subjects and is the image that Elizabeth is still famous for cultivating.
Elizabeth's outfit – Elizabeth modelled her coronation outfit on her mother's, appearing in a beautifully brocaded silk surcoat and an ermine trimmed mantle.
You can read about Anne Boleyn's coronation procession in my post from 31st May – click here – and you can see a video on YouTube.
Notes and Sources
Elizabeth: Apprenticeship, David Starkey (2000), p269-272
The Quenes Maiesties Passage Through The Citie Of London To Westminster The Day Before Her Coronacion, ed. James M. Osborn
Elizabeth's Women, Tracy Borman (2009), p180-181
Illustration: Drawing of the Coronation Procession of Elizabeth I of England, 1559, from a document in the College of Arms, Wikimedia Commons