13 January 1547 – Henry Howard, Earl of Surrey, Sentenced to Death
Posted By Claire on January 13, 2014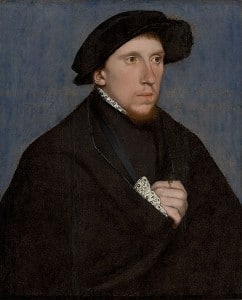 On 13th January 1547, Henry Howard, Earl of Surrey, poet and soldier, was found guilty of treason at London's Guildhall and sentenced to death.
At the trial, Lord Chancellor Wriothesley read out the indictment which had been agreed by a jury at Norwich Castle on 7th January. The indictment stated that "one Henry Howard, late of Kennynggale, K.G., otherwise called Henry earl of Surrey, on 7 Oct. 38 Hen. VIII., at Kennynggale, in the house of Thomas duke of Norfolk, his father, openly used, and traitorously caused to be depicted, mixed and conjoined with his own arms and ensigns, the said arms and ensigns of the King, with 'thre labelles sylver.'"
The "said arms" referred to those of Edward the Confessor, which the indictment also stated belonged "to the said King Edward and his progenitors in right of the Crown of England, which arms and ensigns are therefore appropriate to the King and to no other person."
Surrey was brought to the bar by Sir John Gage, Constable of the Tower of London, and pleaded "Not Guilty" to the charges. His trial lasted a day and he gave a spirited defence. His biographer, Edmond Bapst, wrote:
"For eight hours, Surrey stood up against all attacks, and he more than once succeeded in covering his accusers in confusion, most of whom almost certainly knew less about the rules of heraldry than he."
It was no good, however. Surrey was found guilty and sentenced to be "led through the city of London to the gallows at Tiborne, hanged, disembowelled, &c. (as usual)."
The sentence was commuted to beheading and he was was beheaded on Tower Hill on 19th January 1547. He was laid to rest at All Hallows-by-the-Tower but was moved in 1614 by his son Henry, Earl of Northampton, to a beautiful tomb in the family church, St Michael's at Framlingham.
Notes and Sources