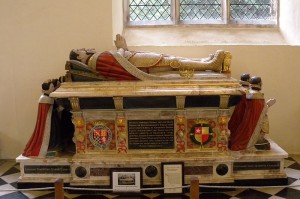 On this day in history, the 19th January 1547, the poet, courtier and soldier Henry Howard, Earl of Surrey and son of Thomas Howard, 3rd Duke of Norfolk, was executed by beheading on Tower Hill after being found guilty of treason. He was laid to rest at All Hallows-by-the-Tower but was moved in 1614 by his son Henry, Earl of Northampton, to a beautiful tomb in the family church, St Michael's Church, Framlingham.
Surrey's father had also been found guilty of treason and was scheduled to be executed but was saved by the death of Henry VIII on 28th January 1547. Norfolk was eventually released in 1553 after Mary I came to the throne.
You can read all about Surrey's fall in my previous article 19 January 1547 – Execution of Henry Howard, Earl of Surrey.
If you want to know more about Henry Howard, Earl of Surrey, I can recommend the following two books: