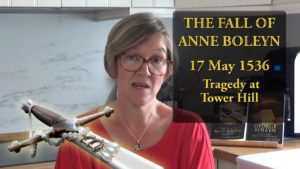 On this day in 1536, 17th May, George Boleyn, Sir Henry Norris, Sir Francis Weston, William Brereton and Mark Smeaton were executed on Tower Hill for high treason after being found guilty of adultery with Queen Anne Boleyn and conspiring with her to kill King Henry VIII.
In today's video, I share what happened on this day, along with contemporary accounts of these men's scaffold speeches. I also share a poem by Sir Thomas Wyatt about the men.
I'm doing these "Fall of Anne Boleyn" videos daily until 19th May and I started on 24th April. You can catch up with them on the Anne Boleyn Files and Tudor Society Youtube Channel.
You can find out more about my book The Fall of Anne Boleyn: A Countdown at http://getbook.at/fallanneboleyn.