Posted By Claire on January 15, 2018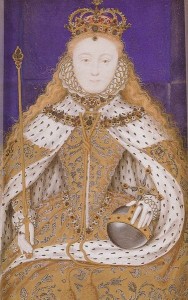 On this day in history, 15th January 1559, twenty-five-year-old Elizabeth I, daughter of King Henry VIII and his second wife, Anne Boleyn, was crowned queen at Westminster Abbey by Owen Oglethorpe, Bishop of Carlisle.
Diarist and merchant-taylor Henry Machyn recorded:
"The xv day was the coronation of queen Elizabeth at Westminster abbey, and there all the trumpets, and knights, and lords, and heralds of arms in their coat armours; and after all they in their scarlet, and all the bishops in scarlet, and the Queen, and all the footmen waiting upon the queen, to Westminster hall; there met all the bishops, and all the chapel with iij crosses, and in their copes, the bishops mitred, and singing Salve festa dies; and all the street laid with gravel, and blue cloth unto the abbey, and railed on every side, and so to the abbey to mass, and there her grace was crowned; and every officer ready against she should go to dinner to Westminster hall, and every officer to take his oaths at service upon their lands; and my lord mayor and the aldermen."1
Here are links to more articles about Elizabeth I's coronation:
15th January is also the anniversary of these events (click on the links to read more about them):
Notes and Sources
'Diary: 1559 (Jan – Jun)', in The Diary of Henry Machyn, Citizen and Merchant-Taylor of London, 1550-1563, ed. J G Nichols (London, 1848), pp. 184-201. British History Online http://www.british-history.ac.uk/camden-record-soc/vol42/pp184-201 [accessed 15 January 2018]. I have modernised the spelling.