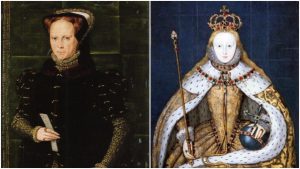 On this day in history, 17th November 1558, Queen Mary I, Henry VIII's eldest daughter, died at St James's Palace at the age of forty-two.
Mary had named her half-sister, twenty-five-year-old Elizabeth, as her heir and members of Mary's council rushed to Hatfield to give the new queen the news of Mary's death. On hearing the news, Elizabeth was reported to have recited a line from Psalm 118: "A domino factum est istud, et est mirablile in oculis nostris", i.e. "This is the Lord's doing; it is marvellous in our eyes."
Elizabeth's half-sister had reigned for just five years but Elizabeth would go on to reign for over 44 years.
Here are my 60-second history videos on these two queens regnant:
You can also read more in these articles: