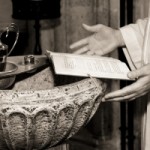 On Wednesday 10 September 1533, three days after her birth, Princess Elizabeth, daughter of Henry VIII and Anne Boleyn, was christened at the Church of Observant Friars in Greenwich.
You can read a primary source account of her christening in may article from last year – Elizabeth I's Christening at the Church of Observant Friars.
Also on this day in history…
1515 – Thomas Wolsey was made Cardinal.
1547 – The Battle of Pinkie Cleugh, part of the War of the Rough Wooing between England and Scotland. It took place near Musselburgh, in Scotland, on the banks of the River Esk. The English forces, led by Edward Seymour, Duke of Somerset, defeated the Scots, killing thousands.
1549 – Death of Sir Anthony Denny, Henry VIII's great friend and groom of the stool, at Cheshunt. He was buried in St Mary's Church, Cheshunt.