1 June 1533 – Queen Anne Boleyn's coronation at Westminster Abbey
Posted By Claire on June 1, 2019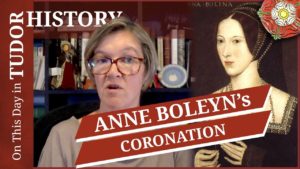 This day in Tudor history, 1st June 1533, Whitsunday, was a day of victory for Henry VIII and Queen Anne Boleyn, Henry VIII's second wife. They had waited many years for this moment, and had been through so much with the 'great matter'. This was a day to be celebrated, for this was the day that Anne Boleyn was crowned queen at Westminster Abbey.
It was a long day for the pregnant queen, starting with a procession from Westminster Hall to Westminster Abbey, then there was the actual coronation ceremony, which was performed by Anne's good friend, Thomas Cranmer, Archbishop of Canterbury, and finally the huge coronation banquet.
Find out exactly what Anne Boleyn did on that day in 1533 in today's video.
If you prefer reading articles to watching videos, you can click here to read more about Anne's coronation.