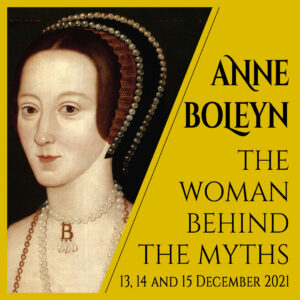 There's only 1 day to go until my event Anne Boleyn, the Woman behind the Myths online event kicks off! Don't miss it!
I'm so very excited, and a wee bit nervous, about it, but I know we'll have fun talking about Anne Boleyn.
If you haven't heard the news, I'm doing three livestreams simultaneously on the Anne Boleyn Files Facebook page and YouTube channel on 13th, 14th and 15th December at 11pm UK time/6pm New York time – see https://www.timeanddate.com/worldclock/converter.html to convert it to your time zone.
Please make sure you're signed up for the Anne Boleyn Files mailing list so that you can:
Receive transcripts of each talk afterwards
Hear about my next event, which is much bigger – a week of talks and live Q&A sessions with Anne Boleyn experts! – and which is taking place in the Spring. Exciting!
And receive 5 free reports as a thank you for signing up