Posted By Claire on March 7, 2013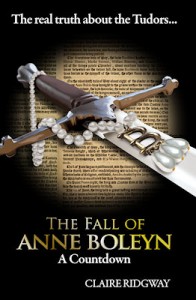 Today is the day World Book Day is celebrated in the UK and Ireland. It is a celebration of books, authors, illustrators and reading. All round the UK and Ireland children will be dressing up as characters from books (as a teacher I was Cruella Deville one year and a dementor another!) and using their £1 vouchers to buy a new book.
As I am passionate about books and history, I thought I'd celebrate this wonderful annual event by offering a copy of my book The Fall of Anne Boleyn: A Countdown to one lucky person. I will sign it and dedicate it for you. To be in with a chance of winning it, you need to comment below answering three questions:
What is your favourite book of all time?
Which book character would you dress up as if you had the chance?
What was the last Tudor themed book (fiction or non-fiction) that you read and what did you think of it?
You need to comment before midnight tomorrow night (US Eastern time) and I'll announce the winner on Saturday. The winner will be picked at random and only one comment is allowed per person. Open to everyone worldwide.