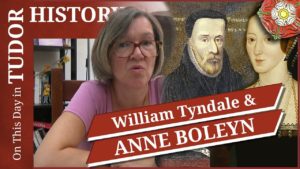 I'm so sorry that I haven't been around much recently, life has just got in the way!
I just wanted to share with you my latest "On this day in Tudor history" video, which is based on an article I wrote on this very site a few years ago, because it is about a book that Anne Boleyn owned, a text that she ended up sharing with King Henry VIII.
I do these talks on a daily basis on the Anne Boleyn Files and Tudor Society YouTube channel, and I also do regular "Questions about Anne Boleyn" videos, and there are 60-second history videos, Tudor cooking videos, and all sorts of other Tudor goodies for you to enjoy there, so please do consider subscribing to my channel – click here to go to it now.
On this day in Tudor history, 2nd October 1528, reformer and Bible translator William Tyndale's book "The Obedience of a Christian Man" was published in Antwerp.
A copy of this book owned by Anne Boleyn ended up being a catalyst of the English Reformation when it was confiscated from the suitor of one of Anne's ladies as a heretical book. Henry VIII ended up reading it and proclaiming that "This Book is for me and all Kings to read." It set him on his path to the break with Rome and saw him marrying Anne Boleyn as his second wife.
Find out the full story in this talk: