Tudor History Challenge – The Boleyns
Posted By Claire on October 8, 2019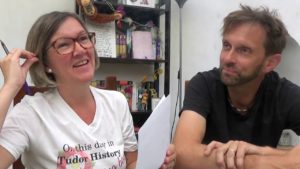 I thought Anne Boleyn Files followers would be interested in the Tudor History Challenge I recorded recently with my husband, Tim, as it is "Boleyn" related.
We recorded this 5th Tudor History Challenge to celebrate reaching 30,000 subscribers to my YouTube Channel – it's lovely that that many people enjoy me talking Tudor! It was the perfect excuse to have some fun at Tim's expense. He was such a good sport. You can click here to subscribe to my Tudor history channel right now.
Anyway, I decided to choose a topic for this challenge, and I thought I'd do the Boleyns, seeing as Tim has put up with me talking about them non-stop and writing about them for well over ten years. Surely osmosis, indoctrination etc. had made him retain some information about my favourite Tudor family.
Do play along and see if you can do better than Tim. The questions are below the video, in case you can't or don't want to view the video, and you can see the answers in the PDF at the bottom of this post.
Questions
The Boleyns moved to Hever Castle in Kent in around 1505, but where did they call home before that?
Thomas Boleyn, the father of Anne Boleyn, held two earldoms – Ormonde and …..
What was Elizabeth Boleyn's maiden name?
How many siblings did Anne Boleyn have that we know of?
In 1515, after Mary Tudor, sister of Henry VIII, went back to England, Anne Boleyn stayed on in France to serve this woman…
Anne Boleyn was romantically linked to the Earl of Northumberland's son and heir on her return to England in the early 1520s, what was his name?
Anne Boleyn, Thomas Boleyn and George Boleyn successfully fought off this illness in 1528 – what was it?
In September 1532, Henry VIII granted Anne Boleyn a title, raising her to the peerage, what was it?
Who described the Boleyns as "more Lutheran than Luther himself"?
Two of Anne's brothers, Thomas and Henry, died in childhood. Henry was buried at St Peter's Church, Hever, but where was Thomas buried?
Mary Boleyn was married twice: to William Carey, who died in 1528, and then to ……
What was the full name of George Boleyn's wife?
Anne and George are buried in the Chapel of St Peter ad Vincula at the Tower, their father Thomas was buried at Hever, Mary Boleyn's resting place is unknown, but where was Elizabeth Boleyn buried after her death in 1538?
How many Books of Hours that once belonged to Anne Boleyn are on display at Hever Castle?
What was Anne Boleyn's main motto as queen?