The Fogges of Ashford: Supporters with Family Connections to the Tudor Dynasty by Amanda Harvey Purse
Posted By Claire on October 9, 2019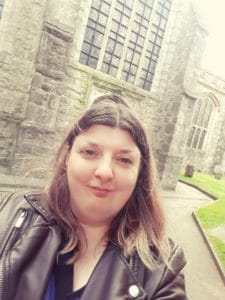 Thank you to Amanda Harvey Purse, author of the forthcoming The Boleyns: From the Tudors to the Windsors, for sharing this article with us here today. It's always interesting to find out about these lesser-known Tudor families.
You may have heard of Sir John Fogge before, when researching the beginnings of the Tudor period, for his choice of who to support in the Wars of the Roses, ultimately worked out very well for him. However, if you think that his name has disappeared in the fog of time, pardon the pun, you might be surprised if you were to visit the market town of Ashford in Kent today.
The mark he has left on this town, is not only still visible for us to see today, which is very rare, but it is a very prominent part of the day to day life for the people that live there and to the town's skyline. Ashford currently, is ever-growing and because of the need for many new homes, the town can seem to be spreading out across the Kentish countryside.
Although in areas, it may look very modern, Ashford still remembers its past, when the location was perhaps a little more quiet. Within a new estate, that is situated behind a well-known supermarket, there are even more shops being built (at the time of writing) and a school. This makes this particular area of the town feel that it has its own community and with new buildings and homes being constructed, new roads had to be manufactured to connect the dots. One of these new roads is now named, Sir John Fogge Avenue.
So with that being stated, let's find out a little more about this man, who is remembered in a Kent town, and his family. For we may come across something new and we may even find that the reasons for Sir John Fogge being a supporter of the Tudor dynasty were a little closer to home for his family, than we first may have realised…
John Fogge, was born in the year of 1417 and was named after his father, John Fogge Senior, who was the second son of Sir Thomas Fogge, a soldier of fortune. This meant that Sir Thomas was willing to fight for anyone who wanted to hire him. Through this role, he was able to buy lands around the Kent countryside, in towns such as Canterbury, Harbledown, Boughton under Blean and Chartham. In 1360, John's grandfather, Sir Thomas, was knighted and became a Member of Parliament in Kent, running for this role eight times in total. Sir Thomas Fogge passed away on the 13th July 1407, being buried inside Canterbury Cathedral. He left enough money for his family to be provided for, which meant that when John Fogge was born, ten years after his grandfather's death, he was born to a family with capital and wealth.1
In the early 1440s, John married Alice de Criol, daughter of Sir Thomas de Criol of Westenhanger, near Folkstone, Kent. When Sir Thomas de Criol was beheaded after the Second Battle of St Albans, where he failed to guard the king efficiently and was on the losing side, Westenhanger Castle was given to his daughter and his son-in-law, John Fogge. John and Alice had one son together, whom they named John Fogge Junior.2 This son later married Joanne Leigh, the daughter of the Lord Mayor of London, Sir Richard Leigh.3
In the February of 1447, when other members of his family had passed away, John gained the same lands that his grandfather had brought before him and three years later, being a nobleman with lands, John was able to become an Esquire to King Henry VI, being involved in the Rebellion of Jack Cade.
This rebellion was caused because of the local uproar over the abuse of power from the King's Men and also anger over the country's debt made from the constant battles with France.4 Jack Cade had gathered an army from Kent, to lead on to the capital. However, once his men had entered the capital, their natural urges to loot the place became apparent. Many people turned on the rebels because of the looting, sequentially helping the King and indeed the King's Men, including John, to fight back. This ultimately caused a bloody battle upon London Bridge. Jack Cade fled the scene only to be captured later, however he was so badly wounded from the battle on the bridge that he died before reaching London again, for his trial.5
Three years after this failed rebellion of Jack Cade, in 1453, John Fogge was made Sheriff of Kent, one of the oldest roles under the crown, that is still in use today.6
In 1458, John Fogge married again, this time to Alice Haute, and they had a number of children together. Their first child was Thomas Fogge, who later became a Porter of Calais for two Kings of England, King Henry VII and his son King Henry VIII. Passing away on the 16th August 1512, Thomas was buried in the same church as his father, within the town of Ashford.7 The couple were then to have three daughters, Anne, Elizabeth and Margaret Fogge.
It was through John's marriage to Alice Haute that John and his later children had a connection to royalty themselves. This was because Alice Haute was the daughter of William Haute and Joan Woodville. Joan's surname is likely to be known to any Tudor researcher today. This is because Joan's brother, Richard Woodville, was the grandfather to Elizabeth Woodville, who was not only the same Elizabeth Woodville who was the wife of King Edward IV, but she was also the mother of Elizabeth of York, the later wife of King Henry VII. Their union, in turn, created the 'Tudor Rose', the well-known emblem of the illustrious Tudor reign.
With this family connection now being known, we can perhaps understand future actions that Sir John Fogge took, a little more clearly, than we may have done before…
Despite his earlier service for King Henry VI, when the future King of England, Edward IV, landed in Britain in 1460, John Fogge altered his position and joined his side instead, at the Battle of Towton. The fact that King Edward IV was successful in this battle, becoming King of England afterwards, meant that John gained rewards for being on the winning side.
John was given the manors of Tonford in Thanington and Dane Court in Boughton under Blean, as well as being presented with a knighthood. In 1461, Sir John was given the office of Keeper of the Writs and was the Treasurer of the Household to King Edward IV until 1468.8
When King Edward IV took the throne, for the second time, from King Henry VI, who was then imprisoned in the Tower and then died in what some say were mysterious circumstances,9 Sir John was given a number of gold and silver mines that were in Devon and Cornwall, as acknowledgement of his loyalty to King Edward through this time. However, events soon took another turn for Sir John Fogge, when in 1483 the future King Richard III became Protector to Edward V, Edward IV's son. Perhaps John was sensing dark times ahead as he decided to take sanctuary, even though King Richard III was prepared to treat him favourably.
Sir John conceivably stayed true to the previous King by being a supporter of Richard Guildford, who was gaining backing for King Edward's son, Edward V to take the throne away from Richard III. This later formed the basis for Buckingham's Rebellion, however because it was unsuccessful, it meant that John lost much of his lands and property, although he somehow managed to keep his head. The loss of some of his property was only temporary, as just two years later, in 1485, John was pardoned and regained four of his manors because of his good behaviour.10
Yet, sensing the tides were turning once more, Sir John Fogge changed sides to be a supporter of Henry Tudor and was purported to have played an active role in the Battle of Bosworth Field, against Richard III. This was of course where Richard III lost his crown, Henry Tudor became King Henry VII and the Tudor dynasty began. It was because of this last choosing of sides that Sir John Fogge regained all the lands that he had previously lost in the reign of Richard III.
Sir John Fogge passed away on the 9th November 1490 and because he had built the main church within Ashford town, St Mary's (as well as the college nearby), he was buried beneath a grand altar-tomb in that church, near his son (as previously mentioned). Sir John's tomb is situated in what is now called St Nicholas' Chapel in the church, however, it was referred to as Repton Chapel in previous years, named after the place in which Sir John Fogge spent his final days at Repton Manor on the outskirts of Ashford in Kent.
If you were to look closely within this church, you might just be able to see a jousting helmet on the wall of the church near his tomb. This once belonged to Sir John Fogge, and he is also celebrated in a memorial window within the church. Sir John's family still plays an important role within the town of Ashford as everyone that is baptised within the church where Sir John and his son are buried, are baptised in the font that the Fogge family had bought for St Mary's Church.
This font is quite interesting. It was built within the Tudor period, when codes and symbols meant everything. On this font, you can still see the Fogge family's coat of arms entwined with Tudor Roses. This may give us a clue to the connection between the Fogge family and the Tudor Royal family, that this may have meant that their family trees themselves are entwined.
Sir John Fogge's connection to the royals was not just through the events already mentioned in this article. There was a Royal blood line, albeit loosely, running through the Fogge family itself and not just because Sir John's second wife was the first cousin of Elizabeth Woodville, mother-in-law of Henry VII and grandmother of Henry VIII.
Sir John Fogge's daughter, Margaret, married Sir Humphrey Stafford. They probably met through her father, Sir John, as Humphrey Stafford was, at the time, Sir John's Ward. Margaret and Sir Humphrey would have six children in total: three sons and three daughters. The second son of this couple was William Stafford. Being the second son, William was not seen as a man of high status, so became a soldier for King Henry VIII11 and later became a bodyguard to this same King. By 1532, William was one of the soldiers travelling to Calais with the King of England. The reason for this event was for the King to show off his new wife-to-be, Anne Boleyn, and hopefully get the King of France's support for King Henry's annulment of his marriage to Katherine of Aragon.
Anne Boleyn's sister, Mary Boleyn, had also travelled to Calais and this could have been the moment that William Stafford and Mary Boleyn met, and possibly fell in love. Being the daughter of Thomas Boleyn, and the niece of Thomas Howard, two important men within the English Court and the sister of the next Queen of England, Mary must have seemed an excellent marriage prospect for William. Although William had his own connections to the royal family – he was, after all, the second cousin of King Henry VIII's grandmother – the connection wasn't deemed a close on, so William was considered a commoner, certainly in the eyes of the Boleyn family.
When Mary re-entered the Queen's service at court – the Queen now being Mary's own sister, Anne Boleyn – visibly pregnant in 1534, her family was not best pleased. Then Mary broke the news that she had actually married the father of her unborn child, the father being William Stafford. Not only had Mary caused a scandal at the English court and shown her ability to have more children at a time when Anne was failing to do so, Mary had secretly married without her family's consent, and to a person the Boleyns had considered to be of a lower status.
Mary was banished from court, an act of punishment that possibly saved her life. Mary survived the fall of the Boleyns with her second husband, William Stafford, and eventually gained the home of Rochford Hall from her paternal grandmother. However, sadly, Mary was not to enjoy this new family home for long, as she died in 1543, the same year. William would later gain a knighthood in 1545 and become an MP for the seaside town of Hastings,12. He remarried, taking Dorothy Stafford, a relation of his, as his bride. Dorothy would become the Mistress of the Robes for William's first wife's niece, Queen Elizabeth I.
It is suggested that William and Mary had two children together: Edward Stafford, born in the year of 1534, the child Mary was carrying when she got banished from court, and Anne Stafford, possibly being born in 1536 and perhaps named after Mary's sister, Anne Boleyn. These two children could have been considered to have been very royal indeed. Through their mother, they were cousins to Queen Elizabeth I, and through their father, they were second cousins once removed to the grandmother of King Henry VIII. There is, however, no firm evidence of their existence.
Sir John Fogg was a man who rubbed shoulders with royalty, even becoming a part of the royal family himself, through his second marriage, albeit in an long winded way. He changed sides in wars and battles, and managed to come out with his life intact, only losing lands and manors, which he regained eventually, due to good behaviour. He was one of the people that helped the Tudor dynasty form during the Battle of Bosworth Field, and generations of his family afterwards would have blood ties to this same dynasty.
He helped build Ashford College, a building that still stands today, although it is now a part of Ashford's museum, and he is remembered in our modern-day minds with the naming of a road, Sir John Fogge Avenue. He also built St Mary's Church, the main church in Ashford's town centre today, and it is there that he rests for all time. You could now say that this church is more than a place of religious importance, that it is testament to a man who could be deemed as a risk taker, a rare successful risk taker, at a period of time when England was very turbulent indeed.
This is part of the Boleyn family story from the forthcoming book, The Boleyns: From the Tudors to the Windsors by Amanda Harvey Purse, author of Martha, The Cutbush Connections: In Flowers, In Blood and In the Ripper Case, the award winning Inspector Reid: The Real Ripper Street and Jack and Old Jewry: The City of London Policemen who Hunted the Ripper. Amanda is a historical researcher, working for many London-based museums and television companies on a range of topics from Policing, Crime, Charles Dickens, Sir Arthur Conan Doyle, the Royals, The Great Fire of London and the Suffragettes.
She is a member of the Metropolitan Historical Police Society and a newly elected member of the Royal Historical Society. Amanda is a writer for The Whitechapel Society Journal and the True Crime Dagger Magazine as well as other websites.
After studying The Tudors course at Roehampton University, it renewed her interest and ideas to write a book based in the Tudor era. From that, The Boleyns: From the Tudors to the Windsors was born and will be her first book fully within the Tudor period. It is due out in 2020.
Notes
Sir Thomas Fogge – History of Parliament
The History of Topographical Survey of the County of Kent: Volume 8 – Edward Hasted
Chronicle of Richard Fogge of Danes Court in Tilmanstone by Kent Archaeological Society 2013
The Historical Literature of Jack Cade Rebellion – Alexander Kaufman
Ibid.
The present Sheriff of Kent is Paul Barrett of Canterbury
A General History of the Kemp and Kempe Families by Frederick Hitchin-Kemp, The Leadenhall Press 2013
Elizabeth, England's Slandered Queen – Arelene Okerlund.
Henry VI died on the 21st May 1471, some say on the murderous orders of Edward IV
Richard III – Paul Murray Kendall
The Mistresses of Henry VIII by Kelly Hart, The History Press 2009
William Stafford 1512 – 1556 by History of Parliament Online 2018