28 June 1491 – Henry VIII is born
Posted By Claire on June 28, 2019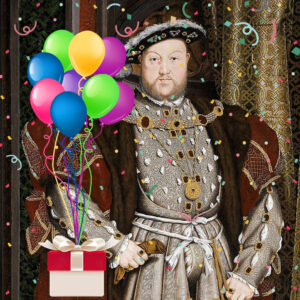 On this day in Tudor history, 28th June 1491, Elizabeth of York, queen consort of King Henry VII, gave birth to her third child and second son at the Palace of Placentia (Greenwich Palace). The little boy was baptised "Henry" at the Church of the Observant Friars, Greenwich, by Richard Foxe, Bishop of Exeter and Lord Privy Seal.
At the time of his birth, Henry was "the spare" and so was not expected to become king. However, his brother, Arthur, Prince of Wales, died in 1502, making Henry heir to the throne. He became king on 21st April 1509 and ruled for over 37 years, until his death on 28th January 1547.
In today's "on this day in Tudor history" video, I give an overview of this Tudor king, his life and his reign.
I'm doing these videos on a daily basis for the Anne Boleyn Files and Tudor Society Channel, so do head on over to the channel to catch up or to have a browse. There is also a playlist on "Questions about Anne Boleyn". Please do consider subscribing to the channel too as it helps other Tudor history lovers find my videos – click here – thank you!
If you prefer audio to video, then you can listen to my podcast at https://tudorhistory.podbean.com/