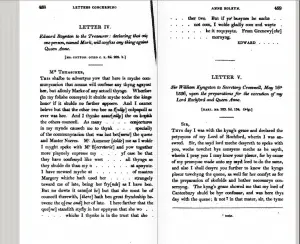 If you've been following The Anne Boleyn Files for a while, you will know that I'm very much an advocate of using primary sources, i.e. contemporary evidence/records, for research. Of course, I do use secondary sources, the work of reputable historians, but never without checking the sources used by them.
For me, when I'm reading a biography or non-fiction history book, the Notes and Bibliography sections are as important as the content of the book and I find it frustrating when authors/publishers don't cite the sources properly. Why? Because if an historian/author says something or comes to a conclusion, I want to know why. I want to know what that theory is based on, where they found that fact, who said it, when they said it and who they said it to. I want a full reference, no "LP" (stands for Letters and Papers, Foreign and Domestic, Henry VIII), I want something like "LP x. 908" so I know which volume to look in and which part of it.
Let's look at an example. On page 351 of his book "The Life and Death of Anne Boleyn", Eric Ives writes of how Henry VIII "declared that his wife had been unfaithful with more than a hundred men, and was morbidly concerned about the plans for the executions, even to the making of the scaffolds" and after that sentence there is a number "42" in superscript. When I turn to the "Notes" section at the back of the book, I find that the reference is "Cal. S. P. Span., 1536-1538, p121 [LP, x. 908]; Wolsey, ed. Singer, p.459." That means that the information can be found in:-
The Calendar of State Papers, Spain, Volume 5 Part 2: 1536-1538, p121
Letters and Papers, Foreign and Domestic, Henry VIII, Volume 10: January-June 1536, document 908
The Life and Death of Cardinal Wolsey and Metrical Visions, George Cavendish, ed. S. W. Singer (1825), p459
I know what the abbreviations stand for because they are explained in the Bibliography.
I can then find out more about Henry VIII declaring that Anne had slept with over one hundred men, and that he was concerned with the scaffold building, by going to the primary sources. Both the Calendar of State Papers for Spain and Letters and Papers are online at British History Online and in LP x. 908 (which is the same document as in the Calendar of State Papers for Spain), I find 908 which is a letter from Eustace Chapuys, the imperial ambassador, to his master, Charles V on the 18th May 1536. In that letter I find the sentence "There are still two English gentlemen detained on her account, and it is suspected that there will be many more, because the King has said he believed that more than 100 had to do with her."
I then go and find George Cavendish's "The Life of Cardinal Wolsey and Metrical Visions", the Samuel Singer edition, which is available to read online at Archive.org – http://www.archive.org/stream/lifecardinalwol00singgoog#page/n8/mode/2up and turn to page 459. There, I find a letter from Sir William Kingston, the Constable of the Tower and Anne's gaoler, to Thomas Cromwell, dated the 16th may 1536. In it, Kingston writes "I shall desyre your further to know the kyngs plesur towching the quene, as well for her comfyt as for the preparacion of skefolds and hother necessarys consernying".
I am satisfied. I can see that Chapuys had either heard the King say that Anne had slept with over a hundred men or he had heard it second hand. Eric Ives has not made it up, he is citing Chapuys, a man who was at court at the time. The information about the King being involved with the preparations for the scaffolds, shows us that Sir William Kingston was taking his orders directly from the King, through Cromwell. Both pieces of evidence are primary sources, letters written in May 1536 by people who were there.
Now, I know I may not be the average reader, in that I'm a researcher and author, but I know that many of you value citations, notes and bibliographies too. They come in particularly useful when there are historians or authors with very different views. For example, G W Bernard and Eric Ives differ in their views over Anne Boleyn's fall, Julia Fox and Alison Weir differ in their views on Jane Boleyn, Eric Ives and John Schofield differ in their views on Thomas Cromwell's involvement in Anne's fall etc. etc. For the reader to come to their own informed decision, they need to look at what the historian is basing their views on. I don't believe that anything should be taken at face value and always advise going that extra mile and digging for yourself.
The wonderful thing about living in the 21st century is that we are living in the information age. I can sit at my desk here in Spain and browse through the 16th century records without going to the British Library or National Archives. I can use the online records, order digital copies of documents to be emailed to me, read texts like Cavendish's "Life of Cardinal Wolsey" on my computer or Kindle, and satisfy my curiosity without even moving (and in my pyjamas too!). Archive.org, British History Online and Google Books are fantastic resources for researchers, students and Tudor history lovers, I cannot recommend them highly enough. Obviously there are things that are not available online, but these are few and far between, and online book sellers like Amazon and Abe Books are wonderful for old books and antique books.
So, next time, you read a theory in a history book which piques your interest or even annoys you, see if the author/historian has given a reference and check it out for yourself. If you're a student doing a paper on a specific history topic then have a look at the sources listed in the bibliographies of a book you have on the subject and get digging. Be warned, it's addictive. Before you know it, you'll be immersed in the 16th century and you'll start considering Chapuys, Cromwell and Lord and Lady Lisle good friends!
I have listed a few of the primary sources that I use on a regular basis on our "Primary Sources for Studying Anne Boleyn" page. It's not a full list but will give you a good starting point.