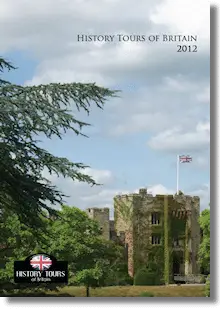 Today sees the launch of our new downloadable brochure for our 2012 programme of Tudor tours – yay! Tim has done a fantastic job with it and I think that it really brings our tours to life. Please have a browse through it and let me know what you think of it.
To celebrate the launch of the brochure, we've decided to extend our special Early Bird booking offer and include The Anne Boleyn Experience September 2012.
So, if you reserve your place before midnight on Friday 9th September we will take £100 per person off the balance owing. The full balance isn't due until 90 days before the tour so you have time to save up! This offer is valid for all 3 of our 2012 tours.
Tim and I are very much looking forward to those of you who have booked a place on the Discover the Tudors Tour, I'm excited already!
Click on the brochure image to download the brochure or go to our special tour site at www.HistoryToursofBritain.com