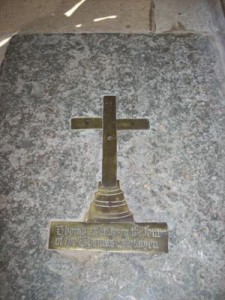 Further to my investigations into the monumental brass crosses on the tombs of Thomas and Henry Boleyn, brothers of Anne Boleyn, I have just had an answer back from Michael Harris of the Monumental Brass Society. Michael spoke to the Society's Kentish expert who said:-
"The Bullen crosses are two "one-offs" of the same design. There was a small workshop in Kent around 1500-1530/35 which produced some rather low quality brasses with a very debased script style. Most of them are listed by Mill Stephenson as "local". The design was never a style, just a bit of Kentish localism. The earlier cross brasses of the fourteenth century in particular were of course high quality, mainly London work for priests. The Bullen examples are almost certainly to children."
I checked my copy of Mill Stephenson's "A List of Monumental Brasses in the British Isles" and it does indeed say "local" in its records of the two brasses:-
"Sm. cross (partly restored) and inscr. to Thos., son of Sir Thos. Bwllayen, c.1520, local, S.C [South Chapel]" – Penshurst
"Sm. cross (restored) and inscr. to Hen., son of Sir Thos. Bwllayen, c.1520, local, N.C. [North Chapel]" – Hever
So, the Monumental Brass Society, who are experts on brasses, date these brass crosses to 1500-1535 and believe that they mark the tombs of children. I guess that "c.1520" was a good date for the Ashmolean and other records to pick as it's pretty much in the middle of this period, but it certainly does not mean that those two boys died in 1520. In the absence of evidence to back up the 1520 date (and therefore to back up Alison Weir's theory that Thomas, and possibly Henry, were adults when they died) and in light of the fact that the style of brasses and tomb suggest children's tombs, I believe that these boys died in infancy or early childhood in the early 1500s. Of course, that is my opinion and I cannot say for certain.
Don't know what I'm talking about? Then please read "The Lost Boleyns – Thomas and Henry Boleyn".
Thanks so much to Michael Harris of the Monumental Brass Society for helping me with my rather strange query! I'm now addicted to monumental brasses, they're really quite interesting!
I have produced a YouTube video on "The Lost Boleyns" in which I share the details of my investigation and photos I took of the churches and tombs – see http://youtu.be/loGyBqxEIN4