Tudor Places Calendar 2012 Launched!
Posted By Claire on June 20, 2011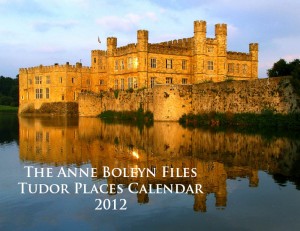 Many of you will know that back in March we had a photographic competition for our 2012 Tudor Places Calendar, well, Friday was an exciting day for me as I received the final proof back from the printers and I am happy to say that you can now pre-order our very own Anne Boleyn Files Tudor Places 2012 Calendar.
Our panel of judges had a really hard time choosing from over 150 photos which Anne Boleyn Files visitors had sent in, but the 12 winning photos are as follows:-
Leeds Castle by Darren Wilkins – This stunning photo was the overall winner and also features on the cover
Lord Leycester's Hospital by Helen Lin
Blickling Hall by Emma Paterson
Old Palace, Hatfield by Helen Lin
Ludlow Castle by Bethany Cattell
Hever Castle by Casey Bradbury
Hampton Court Palace by Tracy Wilkinson
Haughmond Abbey by Bethany Cattell
Sudeley Castle by Laurie Melton
Glastonbury Abbey by Chris Evans
Coughton Court by Felicity Boardman
Pembroke Castle by Rachael Wallace
Congratulations to all our winners who will each receive a copy of the calendar and to Darren who also wins a £25 Amazon voucher.
Calendar Details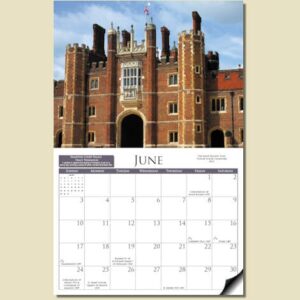 This stunning Tudor Places Wall Calendar consists of 28 pages and is 8½ by 11 inches (215.9 mm × 279.4 mm) with a picture/calendar spread per month. Each month is accompanied by one of our winning photographs and has important Tudor dates marked, making this a perfect gift for Tudor history lovers.
The calendar is printed on heavy weight glossy paper, full colour throughout and is pre-punched for wall hanging. It is polywrapped and perfect for yourself or as a gift. The calendar costs $11.99 and there are bulk-buy discounts for over 5 and over 10.
$1.50 (£1.00) from each calendar sale goes to The Mary Rose Appeal to help complete the new museum to house the wreck of Henry VIII's flagship and the 19,000 Tudor artefacts found in and around the wreck.
You can pre-order this wonderful calendar right now – click here – and it will be sent out to you in July.
[slideshow id=407 w=450 h=350]