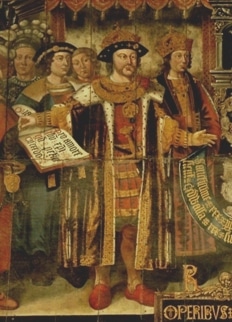 Sussex Life magazine has just reported that the Prince of Wales has agreed to become the Patron of the Chichester Tudor Paintings Appeal, which aims to raise £250,000 to stabilise and restore Chichester Cathedral's Tudor panel paintings.
The four panel paintings were painted by artist Lambert Barnard (1485-1567) in the twenty year period when the Bishop of Chichester, Robert Sherburne, was his patron. Chichester Cathedral describe these paintings as being "among the most important surviving examples of Tudor art in the country" because they "represent a sophisticated piece of political theatre and propaganda. They offer us a rare opportunity to imagine how Henry VIII may have been envisaged by his ordinary subjects, in contrast to the courtly art of the period." The panel paintings, which include a painting of Henry VIII conferring royal protection on the Cathedral, are believed to be the largest surviving paintings of their kind so it is vital that they are preserved for future generations to enjoy.
The £250,000 will be spent on stabilising the paintings to prevent further damage and on research to find out the exact age and condition of the remaining paint to give an overview of what other conservation work will be needed to protect these paintings.

In announcing the royal patronage of the appeal, the Very Reverend Nicholas Frayling, the Dean of Chichester, said:-
"This is a wonderful encouragement to all of us who are working to save these important works of art for the nation. The Prince's Patronage is an indication of their significance, and will be a great help as we seek funding for this ambitious project."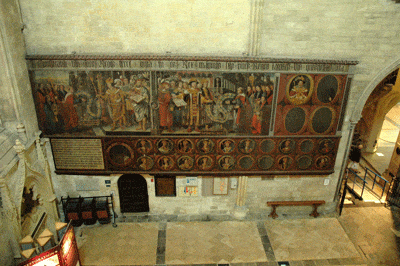 You can find out more about the appeal and the paintings at the Appeal page of Chichester Cathedral website.
Sources