Posted By Claire on July 16, 2014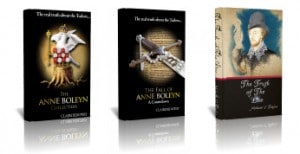 To celebrate the release of Melanie Taylor's historical novel The Truth of the Line as an audio book, MadeGlobal Publishing is running two special offers:
The Truth of the Line Audio Book for just $6
A bundle of three audio books (The Truth of the Line by Melanie Taylor, The Anne Boleyn Collection by Claire Ridgway and The Fall of Anne Boleyn: A Countdown by Claire Ridgway) for just $20 for over 25 hours of audio – The usual Recommended Retail Price for each book is $15.99.
The offers end at midnight on Sunday 20th July – click here to order the bundle or click here to order The Truth of the Line by itself.
All three are available internationally and can be downloaded as mp3 audio files or m4b audio files (itunes etc.). You can find out more about the audio books and hear samples at www.madeglobal.com/audio-books/, but here is the blurb for The Truth of the Line:
In 1572, the good looking and talented Nicholas Hillyarde paints the first of many portraits of Elizabeth I, England's "Virgin Queen". His ability to capture the likeness of his patrons make him famous and his skills are much sought after by the rich and powerful members of the Elizabethan Court. His loyalty to Elizabeth even leads him to becoming part of Sir Francis Walsingham's information network.
One day he is approached by a young man with an intriguing commission. Hillyarde is to paint the man holding a lady's hand – a hand which descends from a cloud – complete with a puzzling motto: "Attici Amoris Ergo"…
There is something familiar about this young man's face, and Hillyarde is led down a dark path of investigation to discover who this young man may be.
Who is the young man? Has Hillyarde stumbled across a dark royal secret, and, if so, is there evidence hidden elsewhere?
Running Time: 670 Minutes
Author: Melanie V Taylor
Narrator: Claire Ridgway
Audio Format: mp3 audio files (general audio devices) AND
m4b audio files (iTunes etc.)
Download Size: 922Mb(mp3)/322Mb(m4b)
For audible.com members, The Anne Boleyn Collection is available from Audible and the other two books will be coming soon to Audible.