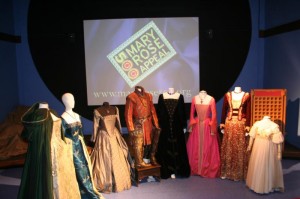 Here at The Anne Boleyn Files, we have been supporting the Mary Rose 500 Appeal, an appeal to raise funds for the new Mary Rose museum project. As part of the fundraising, the Mary Rose museum has been having a series of events and their latest event is an exhibition of some of the costumes worn by Henry VIII and his six wives in the Emmy award-winning series, "The Tudors".
Here are the details from the Mary Rise 500 Appeal press release:-
The Tudors – Courtly Couture Collection
Saturday 29th January – until Thursday 31st March 2011
Mary Rose Museum, Portsmouth Historic Dockyard
As the multiple Emmy Award-winning series "THE TUDORS" starring Jonathan Rhys Meyers returns for its climactic final season on Saturday 22nd January (BBC2 21.45), the Mary Rose 500 Appeal are thrilled to be showcasing some of the costumes for the very first time in the UK, including Henry VIII's orange and bronze war costume from the final series that has been used on the promotional posters.
The costumes will go on display in the AV Theatre of the Mary Rose Museum from Saturday 29th January until Thursday 31st March. Entry can be gained with a ticket to Portsmouth Historic Dockyard or free via the museum shop where it is hoped that the public will generously donate to the Mary Rose 500 Appeal to help build the new museum to open in 2012, where more of these stunning exhibitions will be possible.
The eight costumes on show will be those that were worn by Jonathan Rhys Meyers as King Henry VIII, Joss Stone as Anne of Cleves, Joely Richardson as Catherine Parr, Maria Doyle Kennedy as Catherine of Aragon, Natalie Dormer as Anne Boleyn, Annabelle Wallis as Jane Seymour and Tamzin Merchant as Catherine Howard.
They were on display last year at the Outstanding Art of Television Costume Design exhibition in the Fashion Institute of Design & Merchandising Museum & Galleries, Los Angeles; but this will be the first time they will be displayed in the UK.
Joan Bergin is the Costume Designer and winner of the 2010 Emmy for "Outstanding Costume For A Series", along with Wardrobe Supervisor Susan Cave. Bergin also won Emmys for the series in 2007 and 2008 and received Irish Film & Television Academy awards in 2008 and 2009 as well. Her museum-quality costumes were featured in a Macy's display in New York City on St. Patrick's Day. Bergin has contributed to movies including "My Left Foot," "In the Name of the Father" and "The Prestige." She is currently working on the Starz Network production of "Camelot," starring Eva Green and Joseph Fiennes.
Across the series they made about 500 costumes and rented and modified countless others. The degree of skill can be seen in every detail of the costumes from cloth to braid to button.
In an interview with the LA Times, Bergin described "The Tudors" as a strange blend of trying to be as authentic as possible but with a twist. She wanted people to look at it and say, "Look how sexy and foxy," rather than, "Oh! Who would wear that?" Balenciaga corsets and the Degas ballerinas were her inspiration.
The loan of the costumes has been through the generous support of Joan Bergin and the creator and writer of "The Tudors", Michael Hirst who will also be visiting the Mary Rose Museum for an event on the 24th March 7-9pm – talking about the series with the final episode airing on Saturday 26th March. Tickets will be priced at £10 with proceeds going to the Mary Rose 500 Appeal.
Michael Hirst commented that:
"I am delighted to offer my support to the new Mary Rose Museum appeal and would encourage everyone with an interest in British history to support it too, and perhaps contribute something towards the £35 million which it will cost to transform the Museum into a wonderful contemporary space through which to explore our extraordinary past.
The discovery of Henry V111's flagship and its retrieval from the sea bed, with thousands of contemporary artefacts, is reason enough to reinvent and reinvigorate a Museum which already houses many iconic objects from our glorious naval history.
So I wish the Trust well in all its endeavours to do justice to what was once lost and in darkness, but is now found and in public sight once more."
The exhibition will be open from 11am-3pm on most days, but is advisable to check before visiting at www.maryrose500.org, the MaryRose500 Facebook or Twitter feed, or by calling Fiona Harvey, Appeals fundraiser 023 92 750 521 ext 228.
[slideshow id=340 w=350 h=350]
Workshops – There will also be a series of 'Get the Look' workshops surrounding the exhibition including knitting and beading workshops at the Museum, talks by Dr Suzannah Lipscomb on Henry VIII and Elizabeth Norton on Catherine Parr. Further details are available as per the contact details above.
The Mary Rose 500 Appeal would like to acknowledge Debenhams Southsea and the National Museum of the Royal Navy for the loan of mannequins, Arts University College Bournemouth for help in putting the collection exhibition together, Joan Bergin for the loan of the costumes, Michael Hirst writer and producer and Sony for their use of images.
Events
The Tudors – Courtly Couture Collection
Saturday 29th January – Thursday 31st March 2011 at the Mary Rose Museum (AV Theatre)
Free with a ticket to Portsmouth Historic Dockyard or entry via the Mary Rose Museum Shop – donations to Mary Rose 500 Appeal
11am-3pm on most days, but is advisable to check before visiting at www.maryrose500.org, the MaryRose500 Facebook or Twitter feed or by calling Fiona Harvey, Appeals fundraiser 023 92 750 521 ext 228.
Workshops
Saturday 5th February Knitting for Beginners – 10am – 1pm £15
Saturday 12th February Decorative Knitting Techniques – 10am – 4pm £35
Saturday 5th March Knitting for Beginners 10am – 1pm as above
Saturday 26th March – Kids from Fame legwarmers 10am – 4pm £35 as above
Tutor Ingrid Murnane – costs include knitting needles and yarn.
Saturday 2nd April Beading for beginners 10am – 4pm
Tutor SallyAnn Dunn Cost £40 includes materials
Places limited to 10 advance booking necessary call Fiona 023 92 750 521
Talks
Thursday 3rd March – Prince to Tyrant  – What happened to Henry VIII – Talk by Dr Suzannah Lipscomb Tickets £8.50
Thursday 28th April – Catherine Parr the last queen of Henry VIII and Regent General of England – Talk by Elizabeth Norton Tickets £9.50
Information from www.maryrose500.org or by calling Fiona Harvey, Appeals fundraiser 023 92 750 521 ext 228.
Donating to the Mary Rose 500 Appeal
We have a special Mary Rose 500 Appeal Page with information on the appeal and how you can help. To date, The Anne Boley Files has raised £652 so thank you to all those who have donated or who have supported the appeal by buying our Anne Boleyn Resource Guide or our Jane Seymour All Pink Marble Necklace and Jane Seymour Pink Marble Necklace.