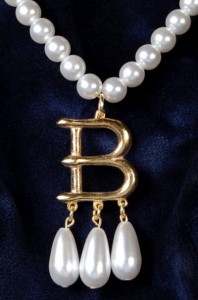 Tis the Season of goodwill and giveaways! Thank you to author Sandra Byrd who is offering one of our very own Anne Boleyn B Necklaces to the lucky winner of this scavenger hunt.
Sandra is the author of The Secret Keeper: A Novel of Kateryn Parr, To Die For: A Novel of Anne Boleyn and Roses Have Thorns: A Novel of Elizabeth I which is due for release in April 2013, but which can be pre-ordered now.
To be in with a chance of winning the B Necklace, you have to answer the following questions and email your answers to me at claire@theanneboleynfiles.com by Friday 14th December. A winner will be chosen at random from the correct entries. The questions give you an idea of where to find the answers but you'll have to do some digging!
1. How many portraits are on the wall in the Tudor Hall on Sandra Byrd's website?
2. How many pictures of the Tower of London are there under the Castles and Palaces page of Sandra's website?
3. Who are the three Tudor queens whose stories are told in the three Ladies in Waiting Series by Sandra Byrd?
4. What Christmas treat was behind the door of No. 2 on the 2012 Anne Boleyn Files Advent Calendar?
5. What is the quotation by Samuel Butler from the Quotes page on The Anne Boleyn Files?
6. How many videos has Claire uploaded on to The Anne Boleyn Files YouTube Channel?
This competition is open to entrants from all over the world. The winner will be announced on Monday 17th December here at The Anne Boleyn Files.
Good luck and happy scavenging!