The Restored Henry VIII Mural
Posted By Claire on July 14, 2012
Rhodri Powell, owner of the house in Milverton, Somerset, where the beautiful 16th century mural of Henry VIII was discovered early last year, has just emailed me to tell me that the restoration work carried out by Anne Ballantyne has been completed. He also kindly set me photos. Thank you so much, Rhodri, for sharing this beautiful mural with us. What a find!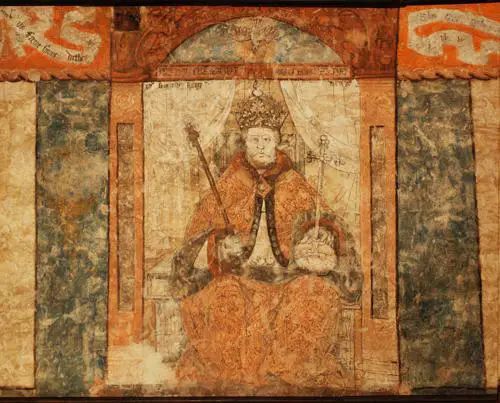 In the gallery, you will see an upside-down one of the mural and that's because Rhodri said, "one night, sitting by the fire with the lights turned down, we made a rather startling discovery. Either (and this is entirely possible, if unlikely) the second image is a pure accident, or it shows what the artist (or someone) really thought about Henry. Try turning the attached picture upside down. If you don't get it straight away, try looking at it from some distance, or through half-closed eyes."
I've put the photos in an album on our Facebook page – see Henry VIII Mural album.
Read more about the discovery in my article – 16th Century Henry VIII Mural Update