The Colour of Poison: A Sebastian Foxley Medieval Mystery
Posted By Claire on February 22, 2016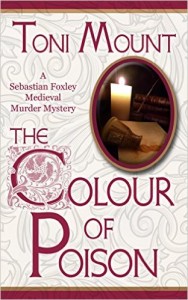 Congratulations to historian Toni Mount on the release of her debut historical novel, The Colour of Poison: A Sebastian Foxley Medieval Mystery. I've had a sneak peek at it and it's brilliant – it's action-packed, beautifully written and really brings the period to life.
Here's the blurb:
The first Sebastian Foxley Medieval Mystery by Toni Mount.
The narrow, stinking streets of medieval London can sometimes be a dark place. Burglary, arson, kidnapping and murder are every-day events. The streets even echo with rumours of the mysterious art of alchemy being used to make gold for the King.
Join Seb, a talented but crippled artist, as he is drawn into a web of lies to save his handsome brother from the hangman's rope. Will he find an inner strength in these, the darkest of times, or will events outside his control overwhelm him?
Only one thing is certain – if Seb can't save his brother, nobody can.
Series: Sebastian Foxley Medieval Mystery
Paperback: 336 pages
Publisher: MadeGlobal Publishing; 1 edition (February 17, 2016)
Language: English
ISBN-10: 849448933X
ISBN-13: 978-8494489334
ASIN: B01BVC7FSU
Click here to view it on your Amazon store now. It is available as a kindle book and as a paperback.