All About Henry VII by Amy Licence
Posted By Claire on February 22, 2016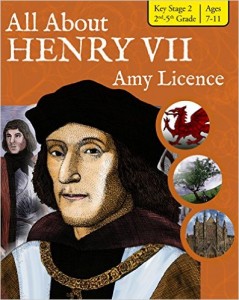 Following on from her wonderful children's book on Richard III (All About Richard III), historian Amy Licence has just released All About Henry VII, a children's book aimed at the 7-11 age group. I've had a play with the interactive kindle book and it's great – you can just look at the illustrations or you can click to read the text or to view more facts.
Here's the blurb:
Henry VII was the first king of the Tudor dynasty. He spent a lot of his life in exile abroad and no one thought he was important. Then he raised an army and won the Battle of Bosworth and reigned for twenty-four years. He saved money, built some splendid palaces and made the country peaceful after years of war. However, he was not always safe, as plots were made by his enemies to remove him from the throne.
– How did Henry manage to stay king?
– Why was his reign so important?
Read the facts about Henry VII in this book and make up your own mind.
MadeGlobal's "All About" series is the perfect choice for anyone who wants to know more about the key characters of history. The books are colourfully illustrated throughout, have a simple narrative to explain the key points in the character's life and more detailed sections for the more-able reader or teacher. The book also contains a section of thought-provoking questions which can be used to further discussions about history.
Paperback: 42 pages
Publisher: MadeGlobal Publishing (February 18, 2016)
Language: English
ISBN-10: 8494457489
ISBN-13: 978-8494457487
ASIN: B01BY5RQDI
It is available as an interactive kindle book or as a paperback. Click here to find out more about it on your Amazon store.