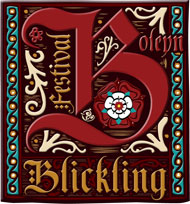 I've written before about this year's Boleyn Festival being held at Anne Boleyn's probable birthplace, Blickling, Norfolk, in May 2012, but here are some more details from organiser Carole Richmond:-
The Boleyn Festival 2012
It's not often that you can get universal agreement from historians, and when Anne Boleyn is the focus of attention then passions can run high. The historians and novelists appearing at the Boleyn Festival at Blickling in May, may well disagree about Anne's religious fervour, her ambition, her intelligence and her fidelity. However, Alison Weir, Eric Ives, David Loades, Elizabeth Griffiths, Neil Storey, George Bernard, Suzannah Lipscomb, Suzannah Dunn, Harriet Castor and Sarah Gristwood all agree that Anne was more likely to have been born at Blickling, near Aylsham than anywhere else.
The Boleyns were an important Norfolk family. Anne's grandfather William Boleyn lived in a house that can still be seen on King Street, Norwich. It shares an inter-connected door with Dragon Hall. His tomb, bearing the Boleyn arms, is in Norwich Cathedral. When his great-grand-daughter, Elizabeth I, worshipped at the cathedral in 1578 she sat opposite this monument to her disgraced mother's family.
There's an illuminated manuscript English bible in the archives at Norfolk Heritage centre inscribed: " liber Iacobi Boolene manens in Blickling", or "James Boleyn's book dwelling in Blickling". James was Anne's uncle and her Chancellor while she was Queen. Anne was known to have displayed an English Bible in her rooms so that her ladies-in-waiting could read the gospel in their own language.
It is in celebration of Anne Boleyn's roots in Norfolk that Blickling Hall is hosting a four-day literary festival that's all about Anne. The festival opens on Thursday 17th with an examination of the Boleyns at Blickling from Elizabeth Griffiths of Exeter University, then David Loades, Emeritus Professor of the University of Wales, will talk about his book The Boleyns: The Rise and Fall of a Tudor Family. Best-selling novelist and historian Alison Weir will discuss her book "Mary Boleyn: The Great and Infamous Whore" and the evening will end with a keynote address from Eric Ives OBE, Emeritus Professor of English History at the University of Birmingham and author of the definitive Anne Boleyn biography The Life and Death of Anne Boleyn.
On Friday 18th May George Bernard, Professor of Early Modern History at Southampton University and author of Fatal Attractions, will present his controversial theory that Anne Boleyn was so desperate to provide Henry VIII with a male heir that she did, in fact, commit adultery with at least some of her co-accused.
Saturday 19th May (the anniversary of Anne Boleyn's execution) sees the traditional midnight vigil to see if Anne's headless ghost makes its way back to the place of her birth. Earlier in the evening historian and story-teller Neil Storey will tell spine-chilling tales of other Norfolk ghosts before leading the audience out to watch for Anne. Alison Weir will present her analysis of Anne's last days and historian Suzannah Lipscomb will discuss Henry VIII's mental breakdown in 1536. The evening starts with prayers being said for Anne in St Andrew, the church on the Blickling estate in a service led by Revd Marion Harrison. Costume historian Molly Housego will attend the prayers dressed as Anne Boleyn and afterwards will explain just how Anne would have dressed for a day at court.
Sunday sees the chance to take high tea with four acclaimed historical novelists. Alison Weir, Suzannah Dunn (author of the best-selling Queen of Subtleties); Harriet Castor (author of VIII a teen novel about Henry) and Sarah Gristwood (author of The Girl in the Mirror) will take turns to host a table each in the luxurious surroundings of Lord Lothian's study.
Full details and prices for festival events can be found at www.boleynfestival.co.uk or by emailing blickling@nationaltrust.org.uk, ticket hotline is 01263 738030 or 0844 8004308
The Boleyn Festival Programme
You can view or download The Boleyn Festival 2012 programme Boleyn Festival draft programme here – Boleyn Festival draft programme