Six Shades of Henry
Posted By Claire on September 18, 2012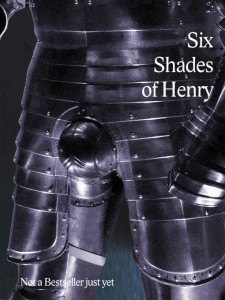 I'm not sure whether fumes from plumbing adhesive has got to Tim and I (we're having building work done), but Tim has just created this mock-up cover inspired by a conversation I've been having on the forum. The Fifty Shades of Grey phenomenon has led to all kinds of spoofs and 'rip-offs', so Bill, a member of the AB Files forum, suggested "Six Shades of Henry" and this inspired the cover you see pictured here.
Looks like I'm going to have to abandon my serious research and writing, and write this book! What do you think? 😉
P.S. Sorry to be completely inappropriate and rather silly, blame the fumes!