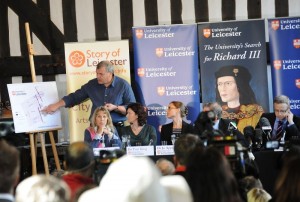 I'm actually at this very moment watching the Greyfriars Project press conference about the remains found on the Richard III dig. They announced that they have found female remains and also the remains of an adult male. The skeleton of the adult male is significant because:
The remains are in good condition and are those of an adult male.
They were buried at the entrance to the choir of the church, which is where records say that Richard III was buried and was a high status place.
The skeleton suffered significant peri-mortem trauma to the skull which are consistent with a battle injury. It appears that a blade cleaved the rear of the skull.
A barbed metal arrowhead was found between two vertebrae of the man's back.
The skeleton had spinal abnormalities. It had severe scoliosis, a spinal curvature which would have meant that the man's right shoulder was visibly higher than his left. He was not, however, a hunchback and he had an active life.
The project is now moving from an archaeological project to one of laboratory analysis as they examine the remains and do genetic testing. They have DNA from a descendant of Anne of York, Richard III's sister, to use as a comparison. DNA analysis will take up to 12 weeks.
Exciting! Find out more at http://www2.le.ac.uk/news/blog/2012/september/richard-iii-press-conference-2013-live-updates-from-11.00am