Posted By Claire on November 22, 2014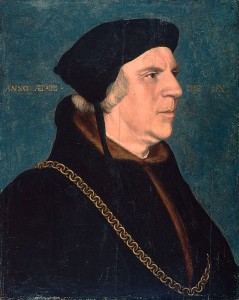 Today marks the anniversary of the death of Sir William Butts, Henry VIII's trusted physician, on 22nd November 1545. He died at Fulham Manor, Middlesex, after suffering from a "dooble febre quartanz", a form of malaria. Butts was buried in a tomb against the south wall of All Saints Church, Fulham, but his tomb and brass were later destroyed. In 1627, his epitaph (a slab with verses by Sir John Cheke) was restored by Leonard Butts of Norfolk.
Butts acted as a royal physician at the court of Henry VIII from 1528 until his death. His patients included the King himself, queens Anne Boleyn and Jane Seymour, the Lady Mary (Mary I), Henry Fitzroy the Duke of Richmond, George Boleyn, Cardinal Wolsey and the Duke of Norfolk. He treated Anne Boleyn when she had sweating sickness in June 1528, and acted as her "talent spotter" when she was queen, helping her find and employ reformist scholars as her chaplains.
You can read more facts about his life in my article Sir William Butts, Royal Physician.
Also on this day in history…
1538 – Burning of John Lambert, Protestant martyr, at Smithfield in London. He was accused of heresy for denying the real presence of Christ in the Eucharist. As he burned at the stake he cried out "None but Christ, none but Christ!"