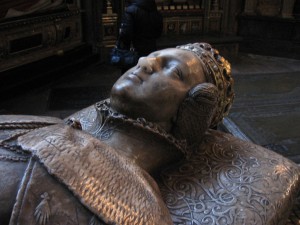 On 21st November 1559, Frances Brandon, Duchess of Suffolk, died at Richmond at the age of forty-two.
Frances was the daughter of Charles Brandon, Duke of Suffolk, and his third wife Mary Tudor, Queen of France, and the mother of Lady Jane Grey, who was queen for just thirteen days in 1553. Frances was married twice. She married Henry Grey, Marquis of Dorset, in 1533 and he was made Duke of Suffolk in 1551. After his execution in 1554, Frances went on to marry Adrian Stokes, her Master of the Horse and a former soldier.
Frances was buried at Westminster Abbey, in St Edmund's Chapel, where Stokes erected a tomb in her memory. The Latin inscription on the tomb, when translated from Latin, reads:
"Dirge for the most noble Lady Frances, onetime Duchess of Suffolk: naught avails glory or splendour, naught avail titles of kings; naught profits a magnificent abode, resplendent with wealth. All, all are passed away: the glory of virtue alone remained, impervious to the funeral pyres of Tartarus [part of Hades or the Underworld]. She was married first to the Duke, and after was wife to Mr Stock, Esq. Now, in death, may you fare well, united to God."
You can read more about her life in my article Frances Brandon, Duchess of Suffolk, and I would also recommend reading Susan Higginbotham's article The Maligned Frances Grey.