Frances Brandon, Duchess of Suffolk
Posted By Claire on November 21, 2013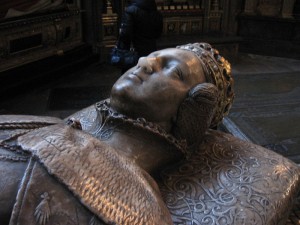 On this day in 1559, Frances Brandon, Duchess of Suffolk, died at Richmond. She was buried in St Edmund's Chapel, Westminster Abbey, on the orders of her cousin, Queen Elizabeth I, and her second husband, Adrian Stokes, erected a tomb in her memory.
Frances was born on the 16th July 1517, St Francis's Day, at Hatfield. She was the eldest daughter of Charles Brandon, Duke of Suffolk, and his third wife Mary Tudor, Queen of France, sister of Henry VIII. "Lady Boleyn and Lady Elizabeth Grey" acted as proxies for Catherine of Aragon and Princess Mary at Frances's christening at Hatfield on the 18th July. Some believe the mystery "Lady Boleyn" to be Anne Boleyn's aunt, also named Anne Boleyn, and others believe it to be Elizabeth Boleyn, mother of the future Queen Anne Boleyn.
Frances married Henry Grey, Marquis of Dorset, at Suffolk House, Southwark, around May 1533. Her mother, Mary, died in June 1533, and Frances acted as chief mourner at her funeral. Just three months later, her father, Charles Brandon, married his ward, Catherine Willoughby de Eresby. Frances became the Duchess of Suffolk in 1551 when her husband was made Duke of Suffolk on 11th October following the deaths of Frances's half-brothers that summer.
Frances's first two children, a son and a daughter, died in infancy, but she had three surviving daughters with her first husband, Henry Grey: Lady Jane Grey, Lady Catherine Grey and Lady Mary Grey. Her daughter, Jane, became Thomas Seymour's ward and lived with him and his wife, Catherine Parr for a time. Frances has often been portrayed as an overly harsh mother after John Aylmer wrote of how Lady Jane Grey had complained of her parents' treatment of her and their correction of her with "pinches, nips and bobs", but there is no other evidence of this. Jane married the Duke of Northumberland's son, Guildford Dudley, in May 1553, and was proclaimed queen on 6th July 1553, after being named Edward VI's heir in his "Devise for the Succession". Jane, Frances and Jane's husband, Guildford Dudley, his father and brothers, were imprisoned in the Tower of London following Mary I's overthrowing of Jane's short reign, but Frances and Suffolk were released on 31st July 1553.
Following Suffolk's' involvement in Wyatt's Rebellion, his and Frances's daughter, Lady Jane Grey, was executed on the 12th February 1554, and Suffolk was executed on the 23rd February. Frances went on to marry her Master of the Horse, Adrian Stokes, and Mary I allowed them to reside at Richmond. Frances gave birth to a daughter, Elizabeth, who died in infancy.
Frances was ill enough on 7th November 1559 to draw up her will. She was forty-two year-old at her death on 21st November 1559. The Latin transcription on the monument erected at Westminster Abbey by Adrian Stokes for his wife reads, when translated:
"Dirge for the most noble Lady Frances, onetime Duchess of Suffolk: naught avails glory or splendour, naught avail titles of kings; naught profits a magnificent abode, resplendent with wealth. All, all are passed away: the glory of virtue alone remained, impervious to the funeral pyres of Tartarus [part of Hades or the Underworld]. She was married first to the Duke, and after was wife to Mr Stock, Esq. Now, in death, may you fare well, united to God."
This article is taken from On This Day in Tudor History by Claire Ridgway.
Author Susan Higginbotham has written some excellent articles on Frances and the Grey family, see The Maligned Frances Grey and also www.susanhigginbotham.com/blog/posts/category/tudor-england/grey-family/.