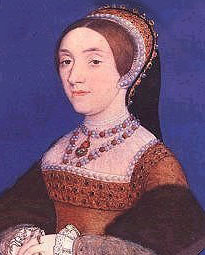 On 2nd November 1541, Archbishop Thomas Cranmer left a letter for Henry VIII in the Holy Day Closet at Hampton Court Palace. He had been given information concerning Queen Catherine Howard's colourful past and had consulted Sir Thomas Audley, Lord Chancellor, and Edward Seymour, Earl of Hertford. They advised him to report the matter to Henry VIII "in writing", so he did, "as he had not the heart to tell it by word of mouth."
But what was this information?
A report to William Paget, Henry VIII's ambassador in France, from the King's council gives us the details:
"While the King was in his progress, one John [Lossels] came to the Abp. and told him that he had been with a sister of his, married, in [Sussex], who had been servant with the old duchess of [Norfolk] who brought up the said Katharine, and he had recommended her to sue for service with [the Queen]. She said she would not, but [was very sorry for the Queen]. "Why? quoth Lossels. Marry, quoth she, for she is [light, both in living] and conditions. How so? quoth Lossels." [She replied] that one Fras. Derham had lain in bed[with her, in his doublet] and hose, between the sheets an hundr[ed nights], and a maid in the house had said she would lie no longer with her because [she knew not what ma]trimony was. Moreover [one] Mannock, a servant of the [Duchess, knew a] privy mark on her body."1
The report goes on to say that the King's reaction was to order his council to investigate the matter and interview John Lascelles and his sister because he thought "the matter forged". Henry VIII could not believe that his "rose without a thorn" could have been intimate with two men in this way.
Reports in Letters and Papers show that Henry's council did indeed investigate the matter. On 4th November they examined a Roger Cotes regarding dealings he'd had with the Dowager Duchess of Norfolk and her household. In his "confession", Cotes stated that he "Never received entertainment of anyone, except 10l. "before the progress of his mistress." Grants that he said that if she were advanced he expected a good living, but denies ever saying he was in such favour that he might have married her."2 We do not hear any more about him.
On 5th November 1541, Mary Hall (née Lascelles) was examined and her confession recorded by Thomas Wriothesley, Earl of Southampton and the King's principal secretary:
"Confession of Mary Halle alias Lassels, "taken by me W. earl of Southampton," 5 Nov. 33 Hen. VIII.
Three or four years past, she was nurse to my lord William's child by lady Rossel's daughter, and was afterwards some time in Lord William's house at Lambeth, but mostly in my lady of Norfolk's house. Was after that in service with my old lady of Norfolk as a chamberer. Describes misconduct, which took place while she was nurse, between Mrs. Katharine Howard and Henry Monoxe, a player of the virginals, and how she remonstrated with Monoxe. Mrs. Isabel, now married to the sword-bearer of York, and Dorothy Barweke, who was put to my Lady's service by Mrs. Barweke, of Horssam, carried tokens between Mrs. Katharine and Monoxe.
Examined what she knows "by" Deram, describes how my old lady of Norfolk used to have the keys of the gentlewomen's chamber brought into her own chamber at night, how Mrs. Katharine would come in and steal the keys, and how one Mrs. Alice Welkes (in margin in another hand, Alice Wilkes alias Restwold) related to her Mrs. Katharine's doings with Deram. Deponent said to Alice Welkes, "Let her alone, for [an] she hold on as she begins we shall hear she will be nought within a while." Knows not where Welkes dwells, but lord William put her to service. Never told my lady of Norfolk, lord William or his wife or anyone except her brother. The old porter [John] Walsheman, John Baynet, and Richa[rd] Faver, grooms of the chamber, and Margery, my lady's chamberer, can tell much."3
Then, Henry Manox, Catherine Howard's former music teacher, was examined:
"Examination of Henry Manox, at Lambeth, 5 Nov. 33 Hen. VIII., before Thomas abp. of Canterbury and Sir Thomas Wriothesley, as to any displeasure between him and one Deram, now servant to the Queen. When he came to the old duchess of Norfolk's service, five years past, he and one Barnes were appointed to teach the Queen, then Mrs. Katharine Howard, to play the virginals. He fell in love with her and she with him, but the Duchess found them alone together one day and gave Mrs. Katharine two or three blows, and charged them never to be alone together after. Then Deram, who was the Duchess's kinsman, and also loved Mrs. Katharine, and Edw. Walgrave, who loved a maiden named Baskervile, used to haunt her chamber rightly and banquet there until 2 or 3 a.m.; so Deponent and Barnes wrote an anonymous letter to the Duchess (tenor given), warning her that if she would rise half an hour after going to bed and visit the gentlewomen's chamber she would be displeased. The Duchess thereupon stormed with her women; and Mrs. Katharine afterwards stole the letter and showed it to Deram, who suspected Deponent to have written it and called him knave. Young Bulmer's wife, who was her bedfellow and also entertained by Deram, Dorothy Dawby, then chamberer with the Duchess, Kath. Tylney, now chamberer with the Queen, Edw. Walgrave, servant to my lord Prince, Mary Lasselles and Malyn Tylney, widow, can speak of the misrule between Deram and Mrs. Katharine. Describes his own familiarity with her."4
Oh dear, the matter certainly did not seem "forged". The council then went on to examine the Queen, but I'll tell you about that another day…
Notes and Sources
LP xvi. 1334
Ibid., 1317
Ibid., 1320
Ibid., 1321