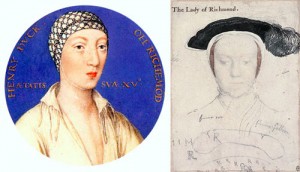 On 26th November 1533 at Hampton Court Palace, fourteen year-old Henry Fitzroy, Duke of Richmond and Somerset, and the acknowedged illegitimate son of Henry VIII by his mistress Elizabeth Blount, married Lady Mary Howard, daughter of Thomas Howard, 3rd Duke of Norfolk, and his second wife, Elizabeth Stafford. Mary was also fourteen years of age.
The marriage was a political match and the young couple were not expected to consummate it or live together after the marriage until they were older. It was said that Crown Prince Juan, brother of Catherine of Aragon, had died because he had consummated his marriage to Margaret of Savoy when he was too young and Henry VIII did not want to risk his only son's health. However, Richmond still died young, dying in July 1536 at the age of seventeen.
You can read more about the couple in my article Henry Fitzroy Marries Mary Howard.