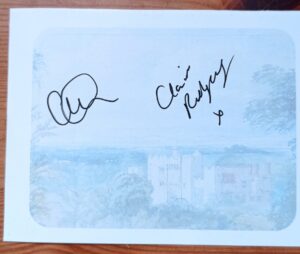 I've been receiving lots of emails, comments and messages regarding getting hold signed editions of The Boleyns of Hever Castle.
Well, you can buy copies signed by Owen from the Hever Castle online shop – see click here, but unfortunately I'm not in the UK to sign any more books there.
However, Owen and I have signed 30 bookplates (see photo) which are self-adhesive, so can be peeled off their backing and tuck in copies of the book. I have them here in Spain and can post them worldwide. The cost is $2.50, which covers my cost shipping worldwide.
You can order a bookplate by using the Paypal button below. I have 30 available so please do order quickly if you want one. Thank you!