Sale on Anne Boleyn, Elizabeth I and Tudor Rose Sterling Silver Pendants
Posted By Claire on May 24, 2021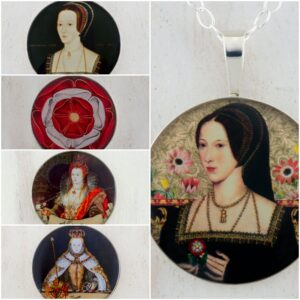 I just wanted to alert you to a sale we have currently in the Anne Boleyn Files shop.
Tiffini is discontinuing her Sterling silver portrait pendants, so we have them on special offer at the moment.
There are two Anne Boleyn pendants, two Elizabeth I pendants and a Tudor Rose pendant included in the special sale, and depending on your chain length option, you can save $10.50-11.
You can find the shop at https://www.theanneboleynfiles.com/shop/
Here are the details on the pendants:
Image is printed with archival inks and materials. Image is protected by a clear, waterproof, flawless and archival resin.
Each sterling silver pendant comes complete with a sterling silver oval cable chain (there are options for different lengths, or you can buy the pendant without a chain).
Packaged in a lovely gift box.
Dimensions: Pendant is approx. 1 and 3/16 inches in diameter (30mm).
Made in Colorado, USA, and shipped directly from there.
Pendant will ship within 3-4 business days after order is placed.
Due to tax implications, we cannot ship to the UK or Europe.