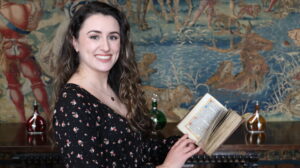 You may have seen Kate McCaffrey on the news discussing her research and the new inscriptions she discovered in one Anne Boleyn's Books of Hours. Kate kindly offered to do a couple of guest articles for me, one for us here at the Anne Boleyn Files and one for the Tudor Society website. Do follow the link at the end to read the second article.
Over to Kate…
To modern eyes, the sixteenth-century afterlife of Henry VIII's ill-fated second queen, Anne Boleyn, is often clouded. This is due, in large part, to Henry's concerted efforts to erase his second wife from history. For Henry, disgracing Anne's name and ordering her execution was not enough. He also ordered the destruction of Anne's emblems and portraits, effectively trying to wipe her from the narrative as he quickly moved on to his third wife, Jane Seymour. Although there was a moderate revival of Anne's memory during the reign of her daughter, Elizabeth I, it was not until a nineteenth-century surge of interest in the tragedy of Anne's story that her name became, once again, well known. Now, 485 years after her demise, new evidence has been uncovered from a small, printed Book of Hours once owned by Anne, and now held at her childhood home of Hever Castle in Kent. This humble volume bears her touching plea for the remembrance that Henry denied her: 'Remember me when you do pray, that hope doth led from day to day'.
I was lucky enough to closely study Anne's printed prayerbook last January and the findings I uncovered during my research have important implications for Anne's sixteenth-century afterlife, memory and reputation in the years after her downfall. For what I discovered, by deciphering four further notes within the book that had later been erased, was a complex network of owners who bravely chose to cherish Anne's memory through the simple act of protecting her book. This was a defiant, communal act between a group of primarily women, who ensured Anne's memory stayed alive with those who once had, and valued, a personal connection to her. Anne was not entirely forgotten.
By uncovering partial transcriptions of each further note within Anne's printed Hours, I was able to see the signed names of those who had owned and used the book after Anne. Three out of four of these names were female: Elizabeth Shirley, Philippa Gage, and Mary West. Elizabeth Shirley and Philippa Gage were sisters, and Mary West was their niece. The sole male inscription came from Philippa's husband, John Gage. Several interesting stories emerge from these names. It is particularly notable that the book was evidently kept safe within the trusted hands of one, extended family. Certainly, if the book had fallen into outside hands the consequences for those who were harbouring Anne's note and book would have been significant. It would have been a blatant display of disloyalty to the king. Also notable is that the members of this family who kept Anne's book safe were all local to the Kent area, and to the Boleyns at Hever.
Indeed, the connection between Anne herself and these other users of her book comes through, I believe, a woman named Elizabeth Hill. Interestingly, this is another female connection. Hill was also born and raised in Sundridge in Kent which is only eight miles away from Anne's childhood home at Hever. She was at court at the same time as Anne, having married Richard Hill, the serjeant of the king's cellar. Hill was the daughter of Elizabeth Shirley, one of the authors of the newly uncovered inscriptions. Thus, it seems as though Anne passed her book to Elizabeth Hill, with whom she shared a personal connection, be that a friendship from court or simply a common experience of locality and background. Elizabeth Hill then kept this book safe by passing it between close members of her family: her mother, her aunt, her uncle, her cousin. These people bravely chose to protect the book, and Anne's place within it, in order to privately cherish her memory. Despite Anne's widespread dishonouring, and attempts to erase her from the narrative, the newly-deciphered inscriptions within Anne's prayerbook tell a different tale of women who remembered Anne, just as she had demanded.
You can read Kate's second article here.
Kate will be discussing her discovery with Natalie Grueninger on her Talking Tudors podcast tomorrow (29th May) so do look out for that at https://talkingtudors.podbean.com/
You can follow Kate on Twitter @kateemccaffrey and also on her blog kateemccaffrey.WordPress.com.
Here is the video that Hever Castle released on 19th May about Kate's work: