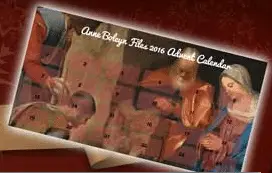 Just a reminder to check the Anne Boleyn Files Advent Calendar on a daily basis – click here to go to it right now.
There are all kinds of treats for you to enjoy – videos, games, music, guest articles and goodies from authors and historians, recipes, information on Christmas in medieval and Tudor times… all sorts!
Don't worry if you've missed any of the days, simply click on the day you've missed and you'll still be able to enjoy it.
There are links to the calendar in the right-hand side menu and also right at the top of the homepage. It's easy to find!
A big thank you to all those who've taken part and to everyone who is using the calendar. I do hope you're enjoying it.