Just a quickie to let you know that due to a reduction in price of some of the supplies that Daniela uses to make our "The Tudors" jewellery range, we have been able to reduce the following earrings:-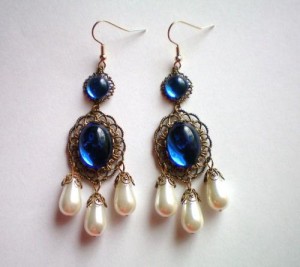 Anne Boleyn Onyx Chandelier Earrings
Anne Boleyn Smoky Topaz Earrings
Anne Boleyn Sapphire Pearl Earrings
Anne Boleyn Amethyst Pearl Drop Earrings
Anne Boleyn Pearl Heart Earrings
Anne Boleyn Emerald Earrings
Anne Boleyn Black Diamond Earrings
Anne Boleyn Circle Amethyst Earrings
The following jewellery sets have also been reduced:-
The Sapphire Set
The Amethyst Pendant
The Emerald Set
The Silver Onyx Set
The Amethyst Renaissance Set
The Double Pearl Headband and Earring Set
For those with sensitive skin or allergies, we now offer solid 14K gold earring hooks as an additional option for our gold earrings and surgical steel earring hooks as an option for our silver earrings. For your information, our 23K gold-plated Anne Boleyn B necklace is gold-plated solid lead-free/nickel-free pewter.
Do remember that Daniela is happy to customise jewellery for you too. Fancy another colour of stone? A different style of chain? Worried about chain length? Just contact me at claire@theanneboleynfiles.com and we'll see what we can do.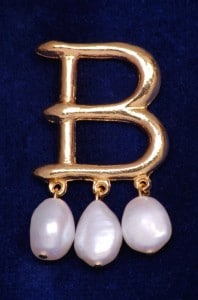 We have also been able to reduce the price of our special Anne Boleyn B Brooch (and B necklace and Brooch set). This brooch is exclusive to The Anne Boleyn Files and is designed and made by Steve Millingham, a British jeweller who has supplied pieces of jewellery for "The Tudors", "The Other Boleyn Girl", the West End production of "A Man For All Seasons", Hampton Court Palace, The Tower of London, English Heritage, the National Trust and various museums.
The brooch features a 23K gold-plated B with genuine freshwater drop pearls.
Just the thing to accessorize a little black dress, scarf or coat, or take a leaf out of Anne Bolyn's book and wear it at the neckline of your dress (Ludlow Castle Lodge portrait).