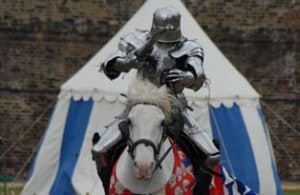 Just a quick post (sorry to blog twice in one day!) to tell you all about the Tudor Tournament that is taking place at Hampton Court Palace this weekend (29th-31st August).
If you're in the London area, it's a must see. Here's what Hampton Court Palace say about it:-
"It's 1535. Come and join Queen Anne Boleyn as she watches her husband, King Henry VIII, joust with her brother, George.

Cheer on the knights in armour as they thunder across the field (in the East Front Gardens) on their magnificent chargers.

During the day, there will also be displays of sword fighting and the court jester will be entertaining the crowds."
Entrance to the Tudor Tournament is included in the general admission price and children under 16 are welcome to turn up in Tudor Costume. Click here to find out more and to find out what happens if the rather changeable British weather affects proceedings!
See our Events Calendar for other Tudor events that are taking place.