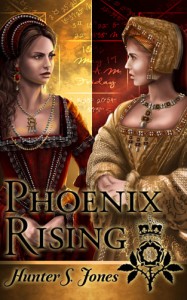 Hunter S. Jones's book Phoenix Rising: A Novel of Anne Boleyn is now available for pre-order on Kindle with a release date of 19th May 2015, the anniversary of Anne Boleyn's execution. The paperback will be available on 19th May.
I read an advanced copy of it and loved it. I described it as "compelling, captivating and moving". I've read so many versions of Anne's fall, but this was fresh and different, and I do love it when a book moves me. A great read for this time of year. Here's the blurb:
The last hour of Anne Boleyn's life…
Court intrigue, revenge and all the secrets of the last hour are revealed as one queen falls and another rises to take her place on destiny's stage.
A young Anne Boleyn arrives at the court of King Henry VIII. She is to be presented at the Shrovetide pageant, le Château Vert. The young and ambitious Anne has no idea that a chance encounter before the pageant will lead to her capturing the heart of the king. What begins as a distraction becomes his obsession and leads to her destruction.
Love, hate, loyalty and betrayal come together in a single dramatic moment… the execution of a queen. The history of England will be changed for ever.
The price (without tax) is $2.99 (US), £1.99 (UK), $3.99 (Australia), $3.64 (Canada) and €2.99 in Europe.
File Size: 4218 KB
Simultaneous Device Usage: Unlimited
Publisher: MadeGlobal Publishing (May 19, 2015)
Sold by: Amazon Digital Services, Inc.
Language: English
ASIN: B00X806742
Text-to-Speech: Enabled
Available for pre-order from Amazon.com, Amazon UK and the other Amazon international sites.